Column: End the New Year's Resolution Stigma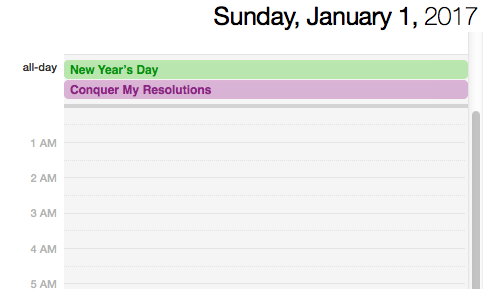 Hang on for a minute...we're trying to find some more stories you might like.
The crystal-covered, LED-filled ball's drop in Times Square, NY will ring in 2017 before we know it.
Many of us have already purchased confetti poppers, whistles and gaudy New Years' themed glasses to anger elderly neighbors with when the clock strikes midnight. Few, however, have taken time to carefully craft their list of resolutions for 2017. Even fewer have put together a necessary plan of action to tackle said resolutions and make them achievable.
For 2016, GoBankingRates discovered that most Americans wanted to enjoy life to the fullest, live a healthier lifestyle, lose weight and save more, spend less. All five of those resolutions become mere mantras. "I will enjoy life to the fullest. I will save more, spend less." The question is, when?
Many different factors amount to why 80 percent of resolutions fail by the second week of February, according to U.S. News. Of course, some resolutions are simply too broad to handle and we end up feeling as though we are struggling to swim to shore. The Wall Street Journal offers a scientific explanation. Lehrer, a writer for the journal and author of "How We Decide," explains that the prefrontal cortex (responsible for focus, determination and problem solving) is too busy and unable to handle yet another task: a resolution. Having tips and tricks in our brain's storage compartments on Jan. 1 can allow us to cross the line between success and failure. 
First, recognize what is doable. No one is capable of being two places at once . . . not even the greatest multitaskers. Transforming goals into small, attainable chunks is often a better option than trying to face one humongous obstacle. For instance, instead of trying to cut out all meat from one's diet, focus on eliminating red meats only. The rest will come with time.
Second, develop awareness and trust. Oftentimes we lose sight of the end goal because we stop believing in ourselves. Operating without awareness of self and trust is possible; however, it is similar to trying to read an entire novel in the dark. Achievable? Yes, though not without causing strain in the end. Taking time to meditate, journal and even sleep can help develop mindful skills.
Third, do not feel discouraged. Hiccups are bound to arise when taking on a brand new goal for 12 months straight. Remember what numerous teachers, parents, friends and even Hannah Montana, iconic Disney Channel character, said, "Nobody is perfect." Reflect and get back on track.
Last, find a reliable system of support. Talking about achievements and bumps in the winding road with family members makes the journey less daunting and offers encouragement. If getting fit is the end goal, consider joining a class, like cycling or zumba. According to the Neenah Joint School District, Ms. Sara Bork, NHS English teacher, generously runs Yoga Club in room 144 every Tuesday. People within certain classes have similar goals and can turn into lifelong friends.
Recognizing what is doable, developing awareness and trust, remaining optimistic even after failure and creating and utilizing a support system, among many other self-thought ideas can make us the 20 percent who U.S. News says stick to their resolutions.
We can end the stigma related to New Year's resolutions being silly or impossible and feel better about ourselves in the process.