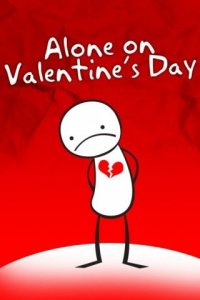 The BEST season of the year, or the best season for the ladies, has already begun. Ladies and gents we have officially begun, "Cuff season."
You better hold your boo tight until Valentine's Day because why risk the chance of not getting showered with heart-shaped chocolates, and if you are lucky, girls, you may get asked that million-dollar question "Will You Marry Me?" 
On the flip side, if you do not have a boyfriend or girlfriend you are in immediate danger of being lonely and presentless during the best Hallmark day of the year!
Unfortunately, speaking from experience, it is not nice cuddling up alone with a cup of hot cocoa watching The Notebook. Or even worse, going with your best friend and her boyfriend ice skating . . . third-wheeling is defiantly depressing!  I decided what is better than asking my sisters about their Valentine's Day plans.  Let me tell you, I was shocked by what I learned. Now I officially know who the loneliest Valeri daughter is this Valentine's Day it is  . . . ME! I found out my baby sister has two boys pleading to be her valentine this year, and she cannot pick! 
It is unbelievable. Not to mention, one of these boys has already bought her a ring, flowers, chocolates, a necklace, a blanket and fuzzy socks. 
What girl does not love a pair of fuzzy socks? 
Keep in mind these gifts were not for Valentine's, not even a pre-Valentine gift, but just because. They are only 15 years old, this brings up many questions like where did he even get the money to shower her with gifts? 
I know many guys, with jobs including one I recently dated who could not even dish out $2 for french fries at Culvers. 
I am being serious!
Anyways, I thought I would get more confidence about my lack of plans on Valentine's Day if I talk to my older sister who is married. Because once you are married Valentine's Day cannot be that great, right?
Well, I was wrong. 
Marriages are apparently bad every other day of the year besides Valentine's Day; honestly, I am not even shocked. She was bragging about the dinner plans  . . . Roses received . . . and the Chocolates, not to forget the cheery on top — an adorable 4-month-old baby and puppy she gets to come home to after their $200 Valentine's Day dinner. 
What a grand way to get my hopes up. Smh.
Just remember, if you have a bad Valentines Day this year, you are in good company — I will be right by your side!
If you have good Valentine's Day hats off to you; I would like to know your secret.
Sincerely ~ Lonely in Neenah, Wis. on Valentine's Day