Boys' Swim Takes 2nd in Sectionals
February 13, 2023
Hosting competitors from 11 schools in the state of Wisconsin, the NHS Natatorium held the 2023 WIAA Sectional Boys Swim meet.  The Rockets took 2nd place with 309 points, losing to Bay Port, who won with 400.
Many Rockets expressed dismay as the final results were announced; they had expected to win but nevertheless went home with plenty of good news.  Seven individuals, around half of the sectional team, qualified for next week's state meet based on their times in today's events.  These include:
200 Medley Relay – Braden Louden, Joshua Youngwerth, Drew Gaerthofner and Tanner Trustem
200 Freestyle Relay – Julian Kuehn, Quinn Koeper, Drew Gaerthofner and Tanner Trustem
200 IM – Tanner Trustem
100 Freestyle – Drew Gaerthofner
100 Breaststroke – Drew Gaerthofner and Tanner Trustem
Diving Events – Ryan Foucault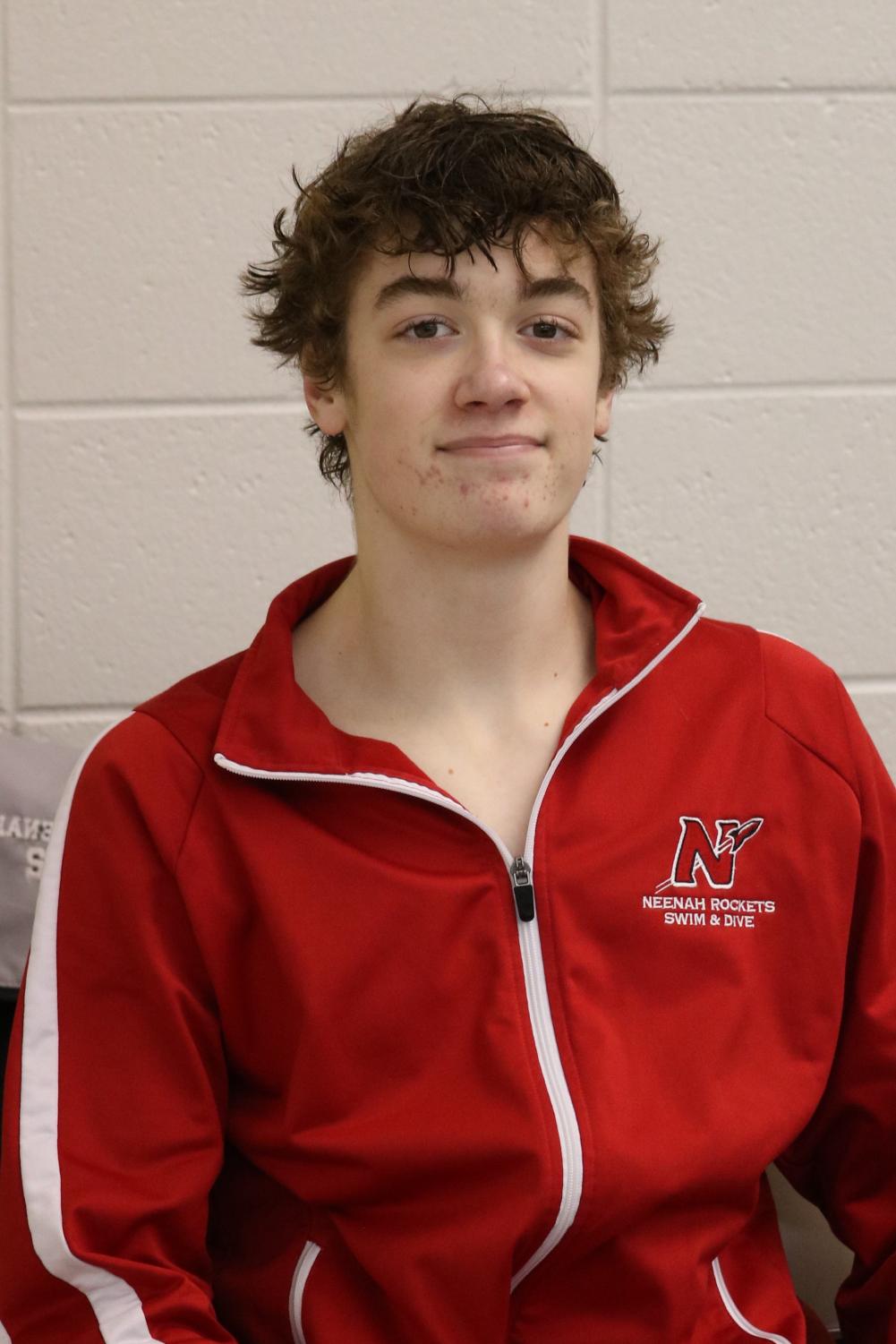 Furthermore, Gaerthofner became the proud holder of the pool record for 100 Breaststroke with his time of 56.62, beating out the previous record set by Max Boehnlein in 2017 by 0.68 seconds.
Gaerthofner first wanted to congratulate the cumulative effort of the team he is a part of.  "It was a great team effort. Everyone was cheering for people, and we made big splashes," he said.  Confident in his team's ability, he asserted, "next year, we'll take the dub."
"It feels good to break the record, and hopefully I get the school record next weekend at state.  It means a lot to me," he added.
But the significance of the record lies in its coming full circle.
"Maxwell, the kid that had it before me, taught me pretty much how to swim breaststroke.  So it feels good to beat it and I can't wait to keep swimming and break more records," Gaerthofner said.
WIAA records indicate that Gaerthofner swam this same event in last year's state tournament, improving by 4.7 seconds since then, the equivalent of jumping 17 places up the rankings.
This year's state meet will be held at the Waukesha South High School Pool, spanning Friday, Feb. 17 and Saturday, Feb. 18.  Information for prospective spectators can be found on the WIAA website.