Individual State Wrestlers Compete in Madison: Program Expands with Addition of Girls
February 24, 2023
NHS sent off  six individual wrestlers to compete in the 80th Annual Wisconsin Interscholastic Athletic Association (WIAA) Wrestling tournament on Thursday, Feb. 23. The tournament was held at the Kohl Center on the campus of the University of Wisconsin in Madison. The previous year was the first-ever individual tournament for girls in Wisconsin.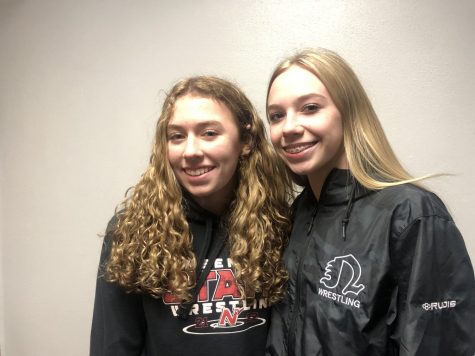 During the last girl's tournament, 261 wrestlers competed. This year, Joelle Reay (100LB) and Kylee Kurszewski (114LB) wrestled as the first NHS girls in a state tournament.
In response to why they participate in wrestling: "I enjoy going head to head against people," Reay said.
Kurszeski said that she wrestles for the adrenaline rush.  "It's also a really good sport in general, " she said.
The wrestling team started this year with roughly 40 members, six being girls.
"We should try to get more girls to join," Kurszewski said.
Both girls are proud of the wrestling team's performance this year and look forward to further growth and achievement.
Six individuals competed in the wrestling state tournament; their names, weight classes and final rankings are as follows:
Jacob Herm: Boys 126 LB – 2nd Place

Eric Schaufelberger: Boys 195 LB – 3rd Place

Declan Koch: Boys 113 LB – 3rd Place

Kylee Kurszewski: Girls 114 LB – 6th Place

Joelle Reay: Girls 100 LB

Eli Gast: Boys 170 LB