State Bound Boys' Basketball Team Proves Superior Over Superior
March 12, 2023
Because of grit and tenacity, the boys' basketball team returns to Madison in quest of a repeat state championship.
Despite a rocky season providing the Rockets a subpar 17-11 record this year, the team has stringed together the series of back-to-back victories in the WIAA playoff bracket necessary to be crowned Sectional Champions and offered the bid to next week's State Tournament in Madison, marking the first time since 1978 that the team has appeared at the tournament in two consecutive years.
The final piece in their sectional victory lay in Saturday's game against the Spartans from Superior High School, located in the state's far-northwestern corner.  And despite a drive time totaling some 80 minutes, Neenah students and parents packed the stands to support their team, even under the threat of a forthcoming snowstorm.
In the first half of the game, the Rockets blasted out, heavily relying on 3-point shots from players all over the court.  Out of nothing but sheer luck, nearly every shot made it in, dramatically increasing their lead to over 30 points by the game's halftime.
While the opposing team picked up their intensity in the second half, bringing the ball to their side of the court more often, their efforts proved insufficient to surmount the Rockets' consistent lead.  Following the final score of 93-65, players from both teams were called up to shake hands with the coaches.  An eager crowd of spectators surrounded the players, excitedly jumping as they held their new award plaque.
Amid many group pictures, swarms of spectators, and a celebration where each player ceremoniously cut one string off their hoop, head coach Lee Rabas and player #2, Jackson Schlomann (senior) answered questions about the preceding game and the days ahead for the team.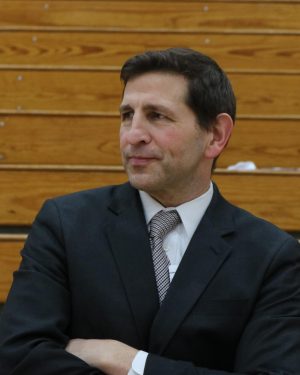 Q: What are your thoughts on today's win?
Rabas: We feel very fortunate to be in that position we're in.  It's a great accomplishment for our senior kids.
Schlomann: Today's game was good. I thought we played well as a team.  We were sharing the ball and playing well on defense.  Shots were falling, so that was always good, and now we're making a trip down to state.
Q: Despite going against much tougher competition, the team has amassed a longer winning streak during the playoffs than at any point during the regular season.  What has the team done to turn things around?
Rabas: I think we've been pretty consistent.  We were just a few plays away from having a bunch more wins this year, so it wasn't like we had a lot of things to do.  We were just marginally better the last couple of games, and just doing enough things to win those games.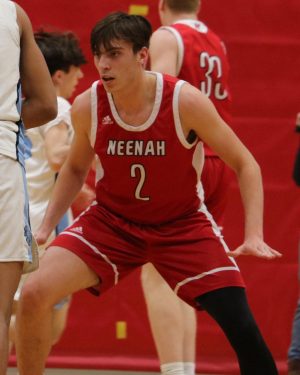 Schlomann: Our effort on defense has been going up a lot as well. I think we're sharing the ball just a lot more.  And I think our grit and tenacity are just up.  Today I think it was just we made an effort to play good defensive basketball, which is the main thing.
Q: What are your thoughts as the team heads to state?
Rabas: We'll probably go in as the #4 seed, and we'll have to play somebody really good.  We'll have to have a great three days of practice and show up ready to play on Friday.  Because we'll probably play against some bigger teams than us, we'll have to do a really good job rebounding and blocking out next week, taking care of the ball on offense, and making sure we're getting the types of shots we want.
Schlomann: Our biggest challenge will probably be size because we play some pretty big teams down there.
Q: Do you have a message for student spectators?
Rabas: We appreciate all the support. We appreciate all the students that drove over, and thank you guys for being here.  And I look forward to seeing you in Madison next Friday.  We're going to play a team that's really good.  To play at this time of the year, you're really good. And we'll have to be ready to play them.
Schlomann: I thought the student energy was amazing — a lot of support came out — even with the hour-and-a-half drive.  So that was good to see.  If you guys could show up for state too, that'd be awesome.  Just come down this weekend!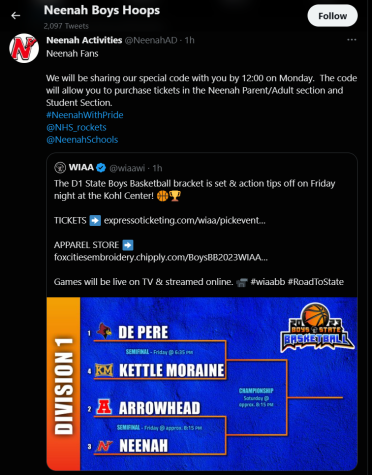 The team's next destination lies in next weekend's state championship tournament at the Kohl Center in Madison.  Attendees of this final dance, from Division 1, include the De Pere Redbirds, the Arrowhead Warhawks, and the Kettle Moraine Lasers.
More information about each Division 1 qualifying team including their season record, rosters and other statistics, can be found on the WIAA website.
As per the update on the official WIAA page, the Rockets have earned the #3 seed in next week's state tournament. That places them in a semifinal match against the Arrowhead Warhawks next Friday night, starting at around 8:15 p.m., according to the Rockets' official Twitter page.
This presents the toughest challenge yet – out of 28 games thus far, Arrowhead has lost only two, and even then, not by more than 6 points. For comparison, the Rockets have lost 10 games, or nearly 42 percent of their season.
---
Athletes and spectators jumped at the moment the team was awarded the plaque.