VEX Robotics Conquers State and Moves to Worlds
March 15, 2023
Two freshman members of VEX robotics team competed in the Wisconsin state championship at the Resch Expo in Green Bay on March 11, won the Amaze Award, and are slated to participate in the VEX robotics world championships. The world championships are being held in Dallas on April 25-27.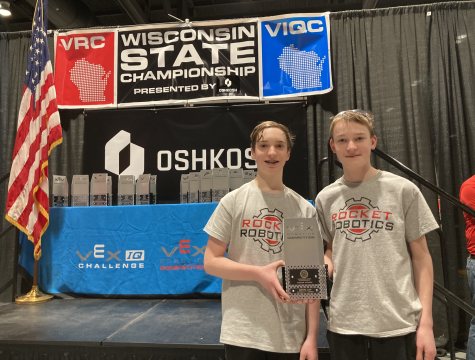 Team 6219B consisting of Jack DeMenter and Jack Henry won the Amaze Award for building a consistently high-scoring, solid mechanical design and effectively coded robot.
"We placed 12th overall, and first in skills," Jack Dementer said. A total of five teams competed for NHS in the Wisconsin state championship over the weekend — the largest group of Neenah VEX to ever compete at state.
Senior Joshua Waite has been a member of the VEX Robotics team for four years and celebrates his team's success in competing at the state championship this year: "This is the first time in the four years that I've been doing this that we actually made it to state," he says with a smile "I'm just happy that we finally made it."