Powerlifters Bring Home Four National Titles
Securing four national championship trophies, the Neenah Powerlifting team celebrated its best performance in the history of the the program founded by Coach Joe Lewis.
Neenah captured the championship banners in girls' raw, girls' equipped, boys' raw and boys' and girls' raw combined at the Myrtle Beach Convention Center in Myrtle Beach, South Carolina on March 30 – April 2.
"This meet was like no other. We all came together and cheered one another on at the top of our lungs! I have never felt a stronger connection to my team and this sport than this past weekend. It was a historic weekend for Neenah Powerlifting, and it was an honor knowing I was a part of making history for our program even if it was my final weekend powerlifting!" Senior Piper Alberg said.
A parade with police and fire escort from Tullar Elementary School to the high school welcomed back the team of Monday, April 3.
The national team consisted of 23 members.  In comparison, Neenah's state team of 30+ members competed at the Appleton Convention Center on March 5-6.  Shortly, before the state meet, two smaller back to back "Last Chance" meets occurred in Marinette and Cameron for those who narrowly missed the state qualifying threshold; no competiors advanced from there. 
Some Neenah middle schoolers qualified for state, but the tournament's age restrictions do not allow participation, which speaks volumes about the legacy created by Coach Lewis and the strength of the powerlifting tradition at NHS. 
Additionally, the following individuals received medals for their efforts in their respective weight categories at nationals: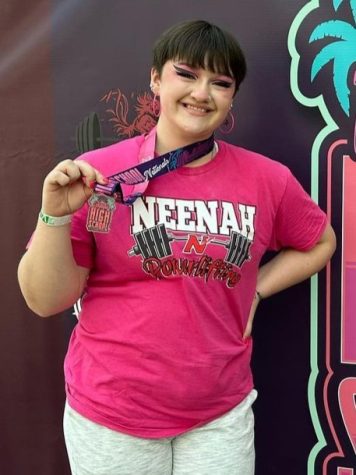 1ST – BRI ANKERSON, 105 LB EQUIPPED
1ST – RYLEE EHLKE, 97 LB RAW
1ST – ABBY HOELZEL, 181 LB EQUIPPED
2ND – AVA MEYER, 165 LB EQUIPPED
2ND – LUKAS QUINONES, 114 LB RAW
3RD – EMMA DONAHUE, 114 LB RAW
3RD – PIPER ALBERG, 220 LB RAW
4TH – EVAN CARDOZA, 123 LB RAW
5TH – MARTA JIMÉNEZ, 105 LB RAW
5TH – LIAM RENNERT, 114 LB RAW
5TH – TY ANDERSON, 132 LB RAW
5TH – CARSON HARWOOD, 165 LB RAW
With this being the last meet of the season, the departure of many seniors who have all left their mark makes this an emotional time for the whole team.