Staff Editorial: Coding the Cyberbullies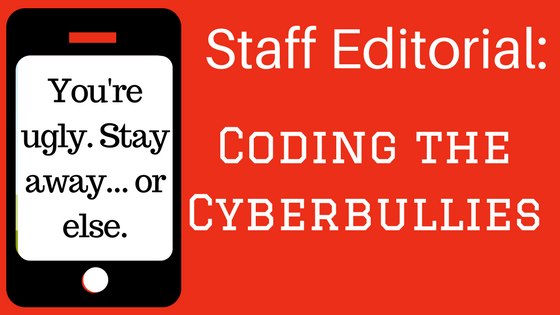 At the beginning of the 2016-'17 school year, students and staff at NHS looked forward to an exciting school year. What staff members were not expecting, however, was how exciting it would actually be with the three fires, numerous fights, and coding possibilities arising from the students.
Within a matter of a few days of the beginning of the school year, a freshman student set a bathroom soap dispenser on fire. Later in the year, a fight between boys in a bathroom, which caught the attention of many students as protests began in the school building, brought to rise questions of what exactly can be coded at NHS and penalties as a result. Other filmed fights raise similar questions as well as the cyberbullying accounts within Act II.  Clearly, a common thread connects these incidents, which are specific to NHS; unfortunately these incidents involving administrative consequences are not unique in American high schools.   
Codable offenses can be found in the NHS Student Handbook, which administrators give to students and guardians to read before the beginning of each school year. Along with the classic no drugs and/or alcohol comes a lengthy portion of the Code of Conduct focusing on bullying or hazing. Nate Werner, NHS Athletic Director, reported that 88 percent of all code violations last year dealt with social media in some way, shape or form. "Hazing is not permitted. No co-curricular participant shall stage any type of initiation ceremony or hazing for co-curricular participants at any time and on any level. 4. Harassment and/or Bullying is not allowed per School Board Policy." School Board Policy describes bullying as a "deliberate or intentional behavior using word or actions, intended to cause fear, intimidation, or harm." According to Werner, codable offenses include three categories: chemical, health and behavioral. He described a few big offenses as being at a party with illegal substances, conducting criminal or inappropriate behavior and harassment or bullying. With all codable offenses, however, Werner said: "There needs to be evidence" in order for him to write up a code.
One common thread seen throughout the school district comes bullying. In the new age of technology, however, students are finding themselves victims of bullying online on social media, through texting and, last year at NHS, through Twitter polls. Throughout the country, and even internationally, schools and communities continue to stay ahead of technology and find ways to keep students safe from the devastating effects of cyberbullying. According to nobullying.com, "The consequences of cyberbullying include putting both victims and bullies at a high risk for depression, anxiety and stress-related disorders. Kids Health from Nemours also reported that those involved in these bullying acts are at a greater risk of suffering from suicidal thoughts, attempts, and completed suicides." The psychological abuse occurring between students may result in a high-tension school environment for the victim of the bullying.  Because of the high-tensions, signs of cyberbullying can include avoiding school and/or group events, declining grade point average and withdrawing from family and friends, according to nobullying.com. As soon as a family member or friend sees signs of cyberbullying, the site recommends solving the issue immediately by going to the school administration team and reporting the incident.
With cyberbullying becoming a greater threat to the newest generation of technology users, NHS continues to judge cyberbullying on a case-to-case basis, Werner said. The problem with cyberbullying is the ability to manipulate and impersonate the online media. In the Neenah Bullying Policy and Procedures from 2010, students and family members are urged to follow four steps: Stop, copy, block, and tell, a guide developed by Barbara Coloroso, "an internationally recognized speaker and author in the areas of parenting, teaching, school discipline, non-violent conflict resolution and reconciliatory justice,"states www.kidsareworthit.com. The steps are found in various other formats throughout the School Board Policy handbook, the NHS Student Handbook and even in Wisconsin laws. Coloroso's steps allows for the hard evidence Werner and the NHS Administration team needs to code a student for cyberbullying. In addition to the copies and hard evidence, Werner also interviews those involved to get a better sense of the situation before making a judgment call. "I don't enjoy handing out codes, but there is certainly something to say about accountability for actions," Werner said.
As cyberbullying presents itself as a prevalent issue within the walls of NHS, students hope to feel the sense of security they once felt at NHS with concrete instructions to follow if they become a victim of cyberbullying.
Leave a Comment