Neenah Student Lives for Science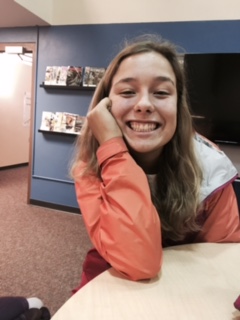 Hang on for a minute...we're trying to find some more stories you might like.
Science, science and more science.
Junior Abby Poss elects to take every science class that her NHS schedule offers. Abby participates in many events around the community and across the country.
"Science is absolutely everywhere. Whether you realize it or not, it is in everything you see or do."
Abby returns home from the Nobel Conference in Minnesota this week. The conference features a two-day event that brings together a panel of  scientists and scholars to discuss where science is today and where science will be in the near and distant future.
Abby involves herself in various activities inside and outside of school. Some activities consist of being a LAUNCH Leader, a member of the National Honor Society, competing on the girls' golf and lacrosse teams, and working on the chore staff through the Brigade.
Abby is also a member of the Science Olympiad program. Science Olympiad is a competition of teams where student participate in events focusing on various science departments.
Abby is off to a great start on a long journey.
In the near future she sees herself going to the University of Miami graduating with a major in marine biology bio-chemistry. She then plans to potentially move on to medical school or to receive her PHD in marine biology.
Precisely, Abby's dream job is to be a marine biologist and be able to study coral.
"One of the most valuable things I have learned is that no matter how hard you work, work, work at something, it still might not go the way you want it to. Or no matter how much you plan, it still might not work out."
True to her scientific nature, Abby warns:  "The most valuable information is to adapt, change and overcome."