Neenah Rockets Lose to Kimberly . . . Again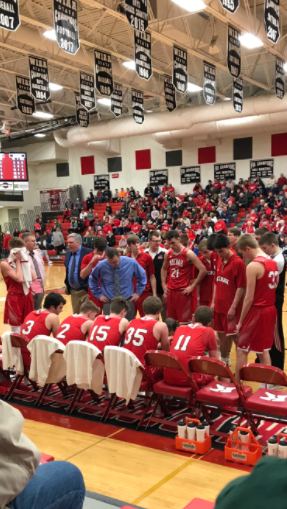 Hang on for a minute...we're trying to find some more stories you might like.
The Kimberly Papermakers delivered the season closing win in a 63-55 victory over the Neenah Rockets.  
Amid their largest lead of the game, all five starters walloped the floor in unison. While the Papermakers section of the grandstands saw this gesture as a display of confidence, the Neenah fans viewed this act from a different perspective.
Usually, senior guard, Alec Rosner, leads the Papermakers to victory, but the big men of Kimberly took home the co-MVP's Saturday night. 6'9 center, David De Valk and 6'5 forward Levi Borchert preformed crisp give-and-go sequences, as uncanny height and passing ability allows for easy layups and entry passes.
As for the Rockets, sophomore phenom, Max Klesmit took the liberty of scoring near half of Neenah points, as he put up 22 well-needed buckets. But, the mighty zeal of Kimberly athletics was too much for Neenah, and the playoff run came to a screeching halt after two games.