Book Review of Salt to the Sea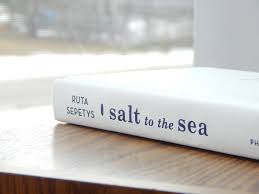 Hang on for a minute...we're trying to find some more stories you might like.
Salt to the Sea, a historical fiction novel written by Ruta Sepetys and published in 2016, tells the story of WWII from the perspective of three refugees and a low-ranked German.
Salt to the Sea tells the often-overlooked stories of war. It highlights the plight of refugees from many different countries during WWII, and how they struggle on their way to safety and freedom, doing anything they can in order to survive.
The book tells the story of four different characters, alternating between their different perspectives with each successive chapter.
Joana Vilkas, a 20-year-old Lithuanian refugee who has repatriated to Nazi Germany as the Soviet Russian army draws closer.
Florian Beck, a young Prussian art restoration apprentice, who has a big secret to keep as he attempts to evade Russian and German forces alike.
Emilia Stożek, a 15-year-old Polish girl, who tries her best to survive, and help others, despite her advanced pregnancy.
Alfred Frick, a young German with an ego the size of a ship, who knows Adolf Hitler's propaganda like the back of his hand.
While the characters within Salt to the Sea are fictional creations, their journey, and the challenges they face, are well-representative of the struggles faced by real refugees everyday.
This book serves as a reminder that during war, many of the most difficult and important battles are not fought on the battlefield by soldiers, but in ordinary towns by regular people.
Salt to the Sea deals with difficult subject matter, taking place during the bloodiest conflict in human history, a conflict that created more than 50 million refugees, a number that would not be seen again until 2013. Millions of people lost their homes, their possessions, and their families. In many cases, they lost their lives.
The book is a relatively quick read, but it packs a powerful punch. The fast-paced narrative combined with the emotional weight of the characters and events creates a quick, intense reading experience.
Salt to the Sea possesses a certain emotional power that many other books do not. Sepetys spent several years researching for this book, and it shows in the level of details and specifics. This book lingers in readers' minds long after they have put it down.
Overall Review: 10/10.