Four Students Plan a Foreign Exchange Experience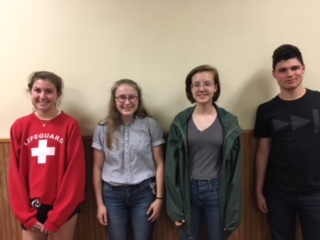 Hang on for a minute...we're trying to find some more stories you might like.
Four NHS students will be exchange students for the 2018-'19 school year, spending their junior years exploring new countries and cultures.
Lorna Kelly will travel with AFS to France.  Sarah Czech will travel with YFU to Germany. Noelle Schumacher will be going with the Rotary program to Chile. Eugenio Calderon will also be traveling with Rotary to Italy. All four students are currently finishing their sophomore year at NHS.
AFS club adviser, Mrs. Mary Counter, said that generally NHS has only one student study abroad a year; however,  this school year there are no students participating in exchange programs.
In terms of next year,  NHS is fortunate to have four adventurous students who desire to learn new languages and cultures and who will bring their experiences back to NHS their senior year.
To date, only one international student is confirmed at NHS for 2018-'19, but Counter anticipates that more students are likely to register during the summer.
Additionally, organizations are always looking for host families for international students, so NHS students are encouraged to consider becoming host brothers and sisters.
Counter advises that students who may be interested in becoming exchange students to other countries are encouraged to contact the four students traveling abroad next year for information on how to start the application process.