Letter From the Editor: Leaving a Legacy
Hang on for a minute...we're trying to find some more stories you might like.
Stepping into room 134 on the first day of my junior year felt incredibly daunting. After considering a career in journalism and communications, my mother pushed me to go out for the school paper.
When I accepted the job of editor last spring, I jumped headfirst into previously uncharted territory. Thankfully, I found an amazing support system to guide me until I learned the ropes. Notably, Mrs. Plankey believed in my ability to lead the newspaper and offered me support along the way. I cannot thank her enough for becoming a friend and mentor. Undeniably, Kiki Risgaard, Jacob Theisen and Dane Hart balanced out my pessimistic attitude to keep me on my feet, for which I owe them a huge thank you. In a broader sense, I doubt I would be preparing to study journalism and political communications full-time without amazing English teachers. To Mrs. Drake, Mrs. Rockweit, Mr. Funk and, of course, Mrs. Plankey, I acknowledge your devotion to inspiring students (such as myself).
The merger between the Satellite and Rocket News gives me faith in the future of Neenah's news. Benjamin Stern and Mindara Krueger-Olson allowed me to sprinkle my journalistic expertise into the weekly broadcast. Because of the foundation the revamped Rocket News created, I anticipate a prosperous relationship in the future. Connecting with students, teachers and the community became my goal on my first day as editor. Along with our updated social media accounts, wide array of stories and prompt updating, the Rocket News link helped me achieve my main goal. I believe Emilee Wise, the new editor, will continue amicable relations.
I am incredibly grateful for the experiences I gained as editor, from meeting local celebrities to attending the NJSD Hall of Fame ceremony. Those same memorable moments taught me valuable lessons that will follow me into my career. First, I now confidently publish my words for the masses instead of fearing critiques. Second, I relate to humanity on a more personal level, especially after researching poverty in Neenah and listening to guest speakers from all walks of life. Finally, I understand the weight of words and how they can shift a climate significantly.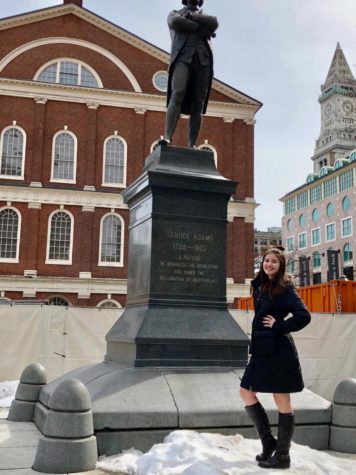 As I move forward at Emerson College in Boston, Mass., I hope to stay in touch with the future Satellite team and the teachers who guided me through my high school years.
Sincerely,
Emily M. Roberts
Editor-in-Chief