NHS Students Whisk Away Expectations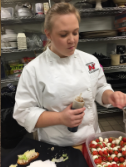 Hang on for a minute...we're trying to find some more stories you might like.
Five students used their culinary skills on Sunday, Oct. 21 to serve at the Grand Meridian.
Seniors Madelyn Hendrick and Rachael Luebker, along with juniors Brooklyn Marion and Katie Berger, and freshman Jennifer Danish, met at school to prepare appetizers for 200 guests.
"It was a great chance for us to network and get our name out there. We all enjoyed it and were happy to be apart of the night," Hendrick said of her experience at the culinary event.

Later that day they served at the Wisconsin Restaurant Association's Celebration of Excellence Dinner.  The students whisked everyone away with their incredible culinary skills presenting dishes such as spicy shrimp on a cucumber, bacon pineapple wraps, cucumber with dill dip and baby tomato, and Cesar salad on a baguette slice.
It takes determination, patience and practice to cook for hundreds of people, and these seasoned culinary students' talents are nowhere near half baked.