Column: Special Olympics Basketball Pummels Staff in Annual Matchup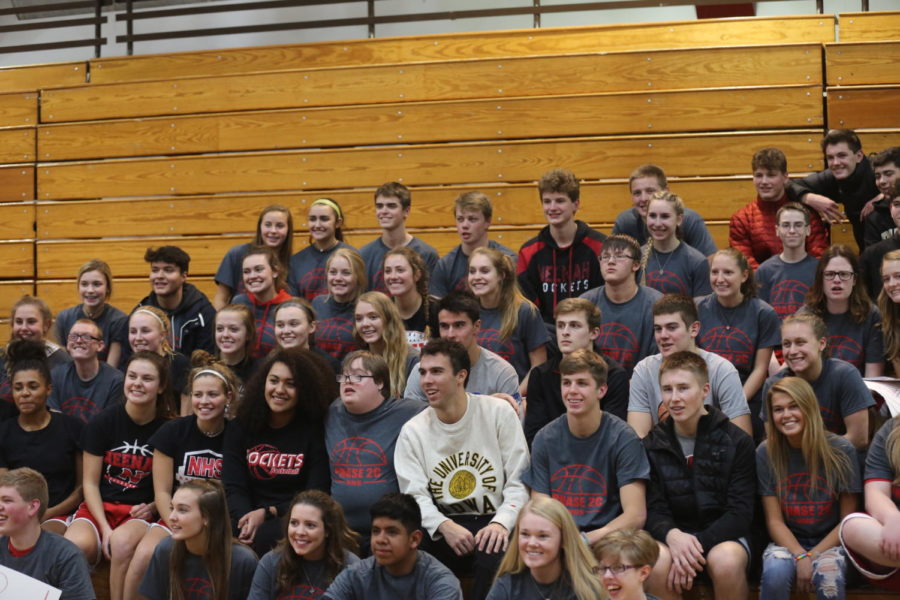 This past Thursday night, Neenah's Special Olympics Basketball Team narrowly edged out the Staff Team with a score of 41-39 at the Phase 2 C game.
Each year, the Special Olympics squad takes on a team made up of NHS teachers and staff in an exhibition game commonly known as Phase 2. This is not just a scrimmage, however. The rivalry between the Rockets and staff cuts deeper with each showdown. During the course of the past four years, the Rockets beat the staff every time they met. Both teams came into Wednesday night's match up with a mix of veteran players, and new talent. How would the fifth annual Phase 2 play out?
From the outset of the game the Rockets took commanded. Led by veteran coach Chad Oeftger, the Rockets maintained an aggressive offense and put up a defense capable of shutting down the staff. The game quickly became one sided. While a team effort on both fronts, one player in particular stood out. Special Olympian Austin Erickson, junior, hammered the staff with rebound after rebound, followed by fast breaks down court topped off by easy shots. At half, the Rockets held a comfortable 22-13 lead.
Facing yet another humiliating loss, staff coach Todd Jacobson began to rethink his strategy. It was time to unleash the secret weapon: Richard Frost. Armed with an expansive knowledge of the sport, athletic ability, and sheer height, Frost led the staff to a dream-like comeback. Keeping pace with and assisting Frost, Bruce Moriarty and Mike Altekruse dominated offensively. The staff answered every point scored by the Rockets. The momentum had shifted.
With under a minute left to play, the staff led the Rockets 39-37. As the remaining time dwindled, Chris Jones, senior, scored on a layup to tie the game. Precious seconds raced by, and the Rockets desperately needed to retake possession. That they did, and Ethan Matthew, junior, scored to make the game 41-39, Rockets. With time still remaining, the staff failed to answer the Rockets, and lost at end of regulation.
At the sound of the final buzzer, the jam packed student section swarmed the court to embrace and celebrate with their Neenah Rockets, as the staff sulked at their fifth loss in a row to the Rockets. The conclusion of Thursday's contest leaves much to look forward to at not only Phase 2 next year, but the rest of the Special Olympics basketball season.