Neenah Diver Wins Three Consecutive State Championships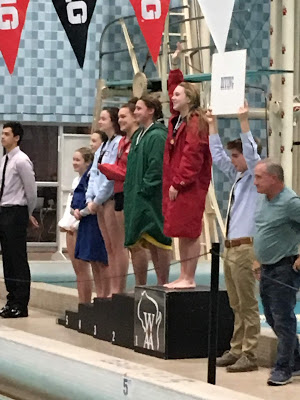 Winning three consecutive state championships in diving takes talent and consistency — both of which Neenah junior Av Osero displayed her freshman, sophomore and junior diving seasons.
"Once I won, it felt like a whole bunch of weight was off my shoulders," Osero said.
At the WIAA state competition, held in the UW-Madison natatorium, Osero finished with a score of 515.2 for 11 dives, according to The Post-Crescent.
Undefeated this season, Osero excelled, Neenah diving coach Tim Foulks said at the team banquet.
Osero's additional achievements this year include breaking a previous Neenah record in the six dives event. Osero set the new record this season at 302.6. The previous top score, held by Hazel Hertting, was 302.3.
A pleasant surprise, her first title as state champion came unexpectedly, but for Osero, the second and third years rose in difficulty. Expectations became higher and stress levels deeper.
An ambitious athlete, Osero expects a fourth state championship — then off to dive for a division one college.
As her reputation climbs, she continues to gain attention from college teams. Several coaches already have her information, Osero said.
"Av's future is going to go wherever she would like it to go," NHS Activities Director Joshua Murnane said, "She is extremely committed and passionate about diving."
Along with passion and commitment, many additional factors contribute to training for state. Osero emphasizes the importance of a strong mental game.
"Something my coach Tim Foulks always told me is that the winner of state competitions isn't the best competitor, it's the person that handles the stress the best."