In-depth Coverage: Journalism Under Attack in 2018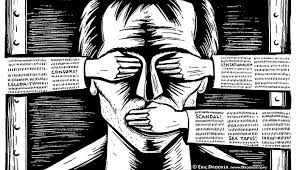 Time magazine called them "Guardians of the Truth."
They were Jamal Khashoggi, a Saudi journalist and critic of the regime who was assassinated by the Saudi government, the staff of the Capital Gazette, a Maryland paper that was the target of a mass shooting, Wa Lone and Kyaw Soe Oo, two Reuters journalists who were imprisoned in Myanmar while investigating persecution of Rohingya Muslims, and Maria Ressa, CEO of the news website Rappler, who faces 10 years in prison for supposed tax evasion; human rights groups believe that her charges are an attempt to silence her criticism of Filipino President Rodrigo Duterte.
Journalism and the media took a beating in 2018. President Trump's relentless bashing of the media has been increasingly seen as supporting violence against journalists, both liberals and conservatives offered criticisms of the media, and the assassination of a journalist by the Saudi government has sparked worldwide outrage.
Criticism of President Trump's supposed encouragement of violence against his critics dramatically increased this year, following a string of high-profile incidents of attacks or attempted attacks that seem to have been partly inspired by Trump. An ABC News poll taken Nov. 2 found that 49 percent of Americans believe Trump's actions and rhetoric encourage violence. The poll was taken days after prominent Trump critics such as Barack Obama, Hillary Clinton, George Soros and CNN were the targets of attempted mail bombings. The suspected mailer of the bombs, Cesar Sayoc, was a vocal Trump supporter.
In another incident in October, Trump offered praise to Rep. Greg Gianforte (R-Mont.) who had been charged with assaulting Ben Jacobs, a reporter for The Guardian, a British newspaper. "Any guy who can do a bodyslam, he's my kinda guy," Trump told a cheering crowd at a Wisconsin rally.
In June, five journalists at the Capital Gazette, a small Maryland newspaper, were killed in yet another mass shooting in a year full of them. In the days before the shooting, Trump referred to the press as "enemy of the people" on Twitter, and far-right Internet troll Milo Yiannopoulos had said that he "can't wait for the vigilante squads to start gunning journalists down on sight." The day after the shooting, Yiannopoulos said that he did not regret his comments.
Aside from Trump, the media has come under fire from people on both sides of the political spectrum. A Gallup Poll in March found that Americans believe that 62 percent of news coverage is biased. Sharp political divides exist, with conservatives saying that 61 percent of media is biased, while liberals say that 47 percent is. In addition, 65 percent of conservatives say that tech. platforms censor them. Furthermore, of 17 news outlets, Democrats view 11 out of 17 positively, while Republicans only view two positively.
Some such as sociology professor Francesca Tripodi say that this is due to flaws in the algorithms that run these platforms. "These algorithms are very complex and not at all intuitive," she said.
These algorithm problems are not limited to conservatives. Black Lives Matter activist Shaun King was temporarily banned from Facebook in 2016 for posting about racist harassment he received, and YouTube videos about LGBTQ topics were flagged as adult content in 2017.
Finally, some liberals have been as vocally critical of the media as conservatives. "The corporate media (has failed) to let the American people fully understand the economic forces shaping their lives and causing many of them to work two or three jobs, while CEOs make hundreds of times more than they do. Instead, day after day, 24/7, we're inundated with the relentless dramas of the Trump White House, Stormy Daniels, and the latest piece of political gossip," wrote Sen. Bernie Sanders (D-Vt.) in a scathing criticism of the media's endless coverage of Stupid Thing Trump Said #8,459 instead of covering more important topics, such as soaring poverty, inequality and climate change.
On Oct. 2, a Saudi journalist named Jamal Khashoggi arrived at the Saudi consulate in Istanbul and was murdered. Two weeks before his death, Khashoggi had expressed support for the "Bee Army," an underground movement of Saudi dissidents and human rights activists. The Army has educated its members on usage of encrypted browsers and VPNs to avoid arrest (criticism of the government is punishable by life in prison.)
Omar Abdulaziz, a friend of Khashoggi and creator of the Bee Army, has said that the Saudi government repeatedly tried to lure him to the Saudi embassy in Canada; when he refused, the government targeted his phone with spyware, and arrested his brothers and friends.
Exeter University lecturer Owen Jones, who has monitored automated Twitter accounts that push pro-Saudi propaganda, has said that the activity by said accounts has surged following Khashoggi's death. Jones also noted that activists tweeting about Khashoggi received threats of murder and torture from Saudi troll farms.
Journalists have always faced harassment, arrest, or even death in the name of telling the truth. The year 2018 was no exception. While there have always been hacks who distort, embellish, and lie in search of profit, from the tabloids and "yellow journalism" of the 19th century to the troll farms pushing government propaganda on social media today; there have also always been upstanding, determined individuals who will let nothing stand between them and the truth. 2018 may have been a dangerous year to be a journalist, but there was never a fully "safe" year to be one.