Review of Spider-Man: Into the Spider-Verse
Hang on for a minute...we're trying to find some more stories you might like.
Being a diehard Spider-Man fan, I was definitely not going to miss Spider-Man: Into the Spider-Verse. I would and have watched every Spider-Man film made, no matter how bad it might be. As a film fan, however, I was anxious to see how this one would turn out. Sony Pictures Animation — creators of the much loved Cloudy With a Chance of Meatballs series and the much hated Emoji Movie — helmed this project and could have easily made another horrid flop like the later from last year. The film is also being led by a completely different Spider-Man than ever before seen on the big screen. Additionally, a film based on the gargantuan Spider-Verse comics crossover event that spanned six comic series and took nearly a year to fully publish seemed like a terrible storyline to base the first film in a new franchise on, let alone having to introduce the concept of multiple Spider-people to the average moviegoer. This film had much to prove: that Sony animation can still churn out quality films, that moviegoers can acclimate to a new Spider-Man and that Spider-Verse could be properly simplified down to a size that average viewers can digest. Suffice it to say, I had some concerns going into the theater.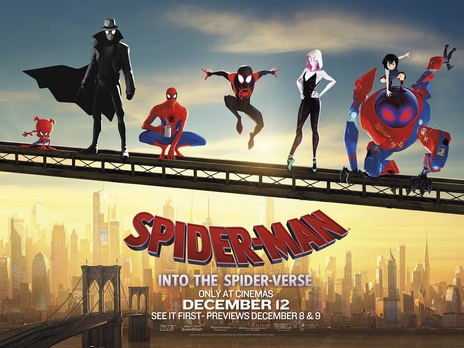 Thankfully, none of my aforementioned concerns came to fruition. Spider-Man: Into The Spider-Verse well surpassed my expectations not only on my first viewing and held strong on my second. Every aspect of this movie was an absolute delight.
The film follows Miles Morales, voiced by Shameik Moore, best known for DOPE and Netflix's The Get-Down. Miles is a young African-Latino American through his struggles of entering a new school,  spider-like abilities and having to save Brooklyn from being destroyed. Meanwhile, other Spider-people from other universes begin showing up in Miles' and offer their assistance in saving the city. One of these other Spider-people is an aged and cynical Spider-Man played by Jake Johnson from The New Girl and TAG who shows Miles the ropes on how to be a hero.
The plot is nothing new, especially in the realm of comic book movies. A young hero acquires powers and must be mentored, so they can save their home. We have seen it a thousand times, both in the pages and on the screen. In regards to its comic inspiration, almost nothing is present from the original Spider-Verse aside from dimension-hoping and multiple Spider-people. In my opinion, it was a genius move, as few moviegoers are gonna have the background knowledge necessary for such an epic. Screenwriter Phil Lord, one part of the dynamic duo behind The Lego Movie and the recent Jump Street films, smartly blends elements from all over Spider-man's history into a witty, fast-paced package.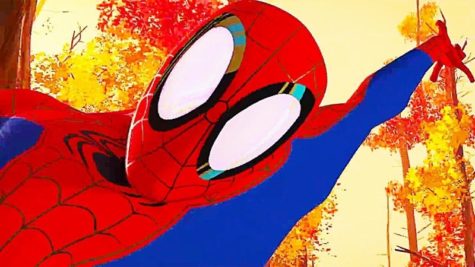 As much credit as the writer of the film deserves, the real heroes here are the 150+ animators and artists. Many different styles of animation were utilized to make a one-of-a-kind look. Never before has an animated film dazzled me so much with such detail and style. It is almost overwhelming at times how much is happening on screen, making me feel as if I have still missed details hidden in the frame. This is no complaint, however; it is rather an incentive to go watch it a few more times.
Whether a die-hard Spider-Man fan or a casual filmgoer, this is an enjoyable ride for anyone and everyone. Be it the witty writing, unique characters or the mesmerizing animation, something will draw attention.