NHS Continues to Hold the Top Spot on ACT Scores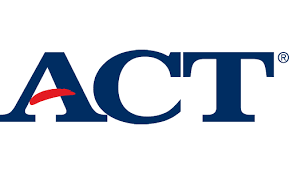 Hang on for a minute...we're trying to find some more stories you might like.
ACT scores are a valued snapshot used by districts to see where they stand relative to neighboring schools and within the state, according to Associate Principal Tim Kachur. 
Although there is more to students' knowledge than how they do on one day on one test, scores are recorded and compared, but how scores are attained has changed significantly.
Historically, NHS held the highest ACT average in the Fox Valley when the state allowed for choice.  Traditionally, only college-bound students paid to participate in this test. Roughly four years ago, the state changed and required every junior to take the test; therefore students who do not plan on going to college, now test at no cost to students. 
Currently, non-college bound students question the value of their ACT score because they assume that it will not be a significant factor in their future.
Kachur confirmed that when the state did this, he saw the cumulative score drop from the standard of 24.1 down to about a 20.9- 21 average. It fell because having the full gamut of juniors taking the test, rather than just the college-bounds who are more likely to try harder and get a good score, tends to bring the average down.
Many juniors who do not care about the ACT will speed race the test. Speed racing is where people will fill in random bubbles to see how fast they can finish.
Unfortunately, one of the many ways some juniors affect the average.
While this is going on, teachers cannot say "no you can't do that" because it is not against the ACT rules; therefore administrators at NHS always stress to kids that regardless if they are striving for a four year-round or a tech-bound, student should target an 18 or higher because it will raise opportunity as chances in getting into an institution.
Why has this not been prevented?
Teachers or administrators cannot do anything about speed racing, but many teachers and administrators try to tell groups of students who are career-bound that it may be worth it later.
For example, Kachur said that he cautions kids: "Maybe for the 18-year-old you right now, yeah, the ACT probably doesn't mean much, but I fear if you are turning 23 and saying that this job isn't working out; I want to get my bachelor's degree or associates in something now."  That ACT score, if used, is going to be the one someone would use for admissions later. If that score is low to the point no school is going to accept, the only other options are to retake, which costs time and money.
Currently, with all of the juniors added to the ACT populus pool — with some who do not care about there scores — NHS continues to stay neck and neck with the other schools around.
Looking at the average of the different schools, The Post-Crescent features, in the Fox Valley area NHS ties with Hortonville High School with a score of 20.9 when over by Kimberly areas they fall short with a 20.4 and then Little Chute with a 20.2.
While NHS holds a good spot in the Fox Valley, where would they stand in the state?
NHS may have an excellent local school score of a 20.9, its state standard is a 19.8 shown by state graphs.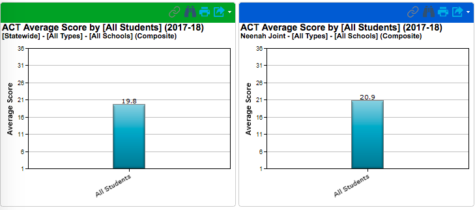 Although many question how NHS holds this average?
Reading specialist Melissa Binsfeld helps her students prepare for the ACT. Binsfeld works with teachers, and teams of students to provide the same awareness and practice as is offered during the ACT Prep workshops, but does so during the school day, as teachers request her support.
It comes down to how NHS helps prepare their juniors.  Binsfeld explained the process of the sessions that NHS prepares.
She highlighted that NHS juniors could participate in a two-week long session. Studying courses like math, science, reading, English and writing are available.
Additionally, NHS offers sample ACTs for students; where after they get their results, they correct what is wrong. It is shown that when students correct what is wrong, it helps them find the skills they are missing to succeed in that area, where teachers provide them to get help in those specific areas.
Curiously, many people wonder if reading is a huge part behind a solid ACT score that Binsfeld as a reading specialist helped answer.
She emphasized that reading skills are fundamental when taking the ACTs because reading is involved in the science, math, English and reading tests. The best way for students to prepare for the test is to read!
As students learn, they build stamina, vocabulary understanding, and fluency. All necessary skills to aid with comprehension. She went on to list the different abilities the reading test measures as drawing logical inferences/conclusions, determining word and phrase meanings, analyzing text structure, and 15 other powers that it helps as well.