Movie Review: Ad Astra Delivers Science Fiction Magic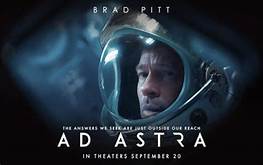 Ad Astra is this year's top science fiction film.
Set in the near future, humanity has begun building bases and colonies on the Moon and Mars.  Advancements in technology have made space travel and exploration easier for the masses, who cheerily bounce around them for fun.  Adorned with various corporate logos and rocket launchpads, the bases have become tourism hubs.
Brad Pitt plays the main character Roy McBride, an astronaut.  The opening act shows him working on a "space elevator" in low Earth-orbit.  Suddenly, blue light surrounds his eyes, and the next thing he knows, the entire structure is explosively collapsing.  It is revealed that the cause of this was a major power surge shot from an antimatter device in Neptune's orbit — the same place where McBride's father disappeared years ago.  NASA has selected him to travel to Mars in order to contact, and find what became of his father and the ship he was piloting.
From 20th Century Fox, recently struggling with the critical-commercial failures of Stuber and Dark Phoenix, Ad Astra seems like a first step toward recovery after its merger with Disney was completed in March.  While its storyline was sort of dragged out, it never failed to disappoint with its brilliant, saturated visual effects and fun, action-packed scenes.