Substitute Teacher with More Background than Most Expect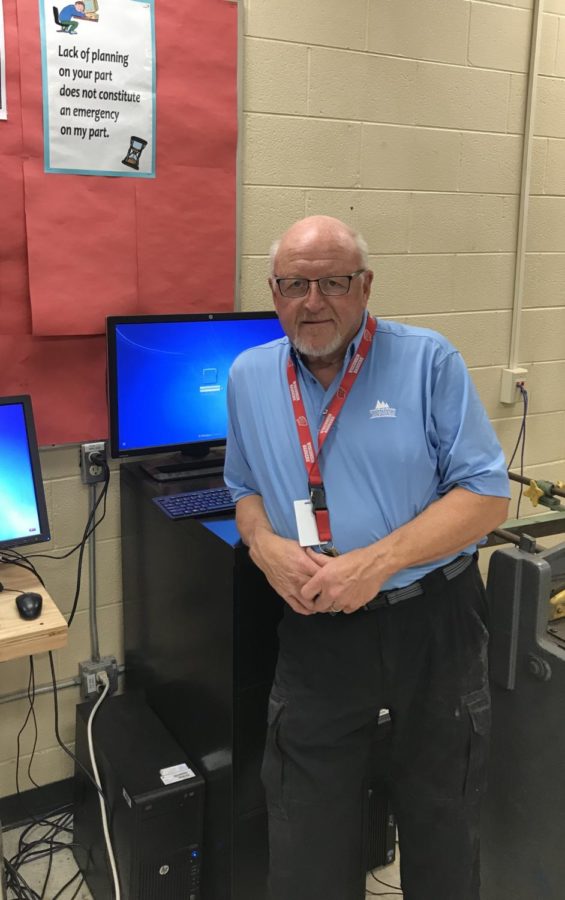 When students enter a classroom and see a substitute teacher their expectations for the class immediately drop.
Expecting an inexperienced, half-caring teacher with their eyes glued to their computer. Many ignore their background.
Specifically, sub Michael Thacker, began his career in the '70s.  He switches between full-time and substitute positions for eight years. After this, he trains employees at Kimberly Clark to run machines. Although when his position ends, he returns to college receiving his teaching certificate.
The rationale behind this decision is his "people person" character.  He values communication. Personally struggling in high school, he finds different strategies to comprehend information. Becoming a teacher, he shares his knowledge helping students who struggle as he once did.
Teaching students often requires care and attentiveness, like a woodworker and his craft.  Ensuring students thrive, Thacker, without a doubt, bends over backward to lend a hand to someone in need, such as providing a class fee, new jacket, or even shoes.
"Students have enough to worry about and if I can do anything to make peace of mind I will."
One example is an elementary student struggling to keep up with personal hygiene. Noticing, Thacker not only provides the student a set of new clothes to wear, but shows the student a place at school to shower when needed.
Outside the classroom, Thacker keeps busy as a photographer taking thousands of photos every Saturday for the UW-Oshkosh Titans, missing only three games in four years. At home, he enjoys woodworking, as well as completing small projects and repairs. 
Teachers similar to Thacker help students find success; therefore next time, students walk into a room with a substitute teacher don't assume — instead seek to understand his history and passion.