Social Media Helps Friends Stay in Contact Overseas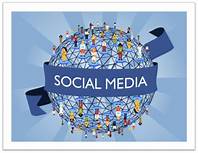 Lilly Mayer went on a week long cruise vacation. Within that amount of time she managed to make friends. All good things must come to an end though, including a vacation. After getting to know these people for a week, it was time to say goodbye. With everyone living in different corners of the globe, seeing people again was slim. Thanks to social media platforms, they have been able to stay in contact ever since the goodbyes.
"It was a roller coaster of emotions after saying goodbye," Mayer said. Her good friends she made live in Sweden. If they were living in the United States, there is a greater chance of maybe having a visit happen, but that is still a slim chance. 
They exchanged Snapchats and Instagram's before leaving, and once there was WiFi everyone was in contact again. That would not have been possible with those media platforms. It has been challenging though, their time zone is six hours ahead of hers, which gives them only a couple hours of they day to talk before someone goes to bed. 
"Even though it's not the same talking over Snapchat as it is in person, it's better than nothing," Mayer said. Making these friends has been eye opening and education for Mayer. They talk about the different cultures, different schooling, and even how it is different from getting a driver's license. It is almost like they are able to escape the world they are in and talk to a genuine friend. 
Social media is always a controversial topic whether if its good or bad. This was a huge positive; it is keeping friends in contact even if it is a little unconventional. It has given this group of friends a way to see each other again, without buying plane tickets overseas. Anytime they are able to say hi with the click of a button.
It has been two weeks since they said goodbye to each other, but not since they have last talked. In a way it is hope to see each other in person again, instead of over a screen. It is a different world we live in today, and possibilities are endless be meeting people and always being able to see them.
 "I got back into my normal life routine, but it's awesome to just get to ask them about their day or face time them for a little bit," Mayer said. It is an unconventional friendship, but at least they have the opportunity to talk whenever instead of never.