NHS Announces Inclement Weather Plan for the School Year: Digital Learning Days Return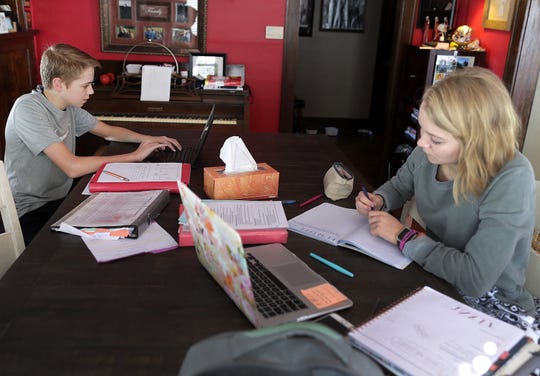 Ethan Krueger, Student of Journalism
December 1, 2019
Hang on for a minute...we're trying to find some more stories you might like.
Digital learning days to play a role for NHS students this year.
According to Associate Principal Timothy Kachur, students and teachers should anticipate that the next "snow day" could be designated a digital learning experience.  In other words, the experiment trialed last year was considered a success and worth continued use. Not that the snow will become extinct, (they could still occur in some instances) but that the use of digital learning days will be applied more consistently overall.
Digital learning days were first implemented last year in Neenah's schedule to substitute for the traditional "snow day" — that glorious day every child longs for when the weather is so extreme he or she is forced to stay home instead. 
Although enjoyed for the carefree time off, traditional snow days have their downside as well. Too many snow days and the school is forced to extend the remaining school year in some way; thus the digital learning day enters.
With digital learning, students stay safely at home but are expected to complete assignments posted electronically on the school system by their teachers.  With digital learning day, the school could help ensure that the last day of school was, in fact, the last day. Also, students would be able to push play when they return to school and continue on, uninterrupted,  like any other normal day. 
This idea is new to the district, but the concept was developed many years before, Nathan Gehrke said, in his article about last year's digital learning in the Satellite. 
According to NHS administration, the digital learning days from last year generated great feedback from students, parents and teachers. Within the feedback, there were both positives and negatives that were shared, but enough encouragement to continue to build on the initial success.
On the positive side, "The work done by students was deemed to be the caliber of what you would see in the classroom," Kachur said.  NHS also was able to end the school year on the scheduled date without having to add minutes to the day or days to the calendar.
On the other hand, many students felt that the work given was too much to handle. In a survey collected last year by students. 33.5 percent of students said that they had 5 hours or more of homework from digital learning, which exceeded the expectation.  The digital learning requirements were new for teachers, too, and some adjustments would be needed.
What are other schools doing? In comparison to NHS, other schools in the Fox Valley such as the Appleton School District used traditional snow days to address extreme inclement weather last year.  Because of the number of snow days that occurred, they were forced to add time onto their pre-existing schedule to prevent having to add days in the summer. "Appleton Area School District announced Wednesday it would add six minutes to the elementary school schedule and 20 minutes to the high school schedule starting March 4." Devi Shastri said in her story on The Post-Crescent. 
As one of the  first school districts in the area to use digital learning days, several Neenah administrative directors have been contacted by leaders of other schools wanting to learn more about it.
"You started to hear more districts moving to this option because they didn't want to end up in the spot where you're either making up minutes or making up days down the road or taking away spring break days," Kachur said. 
In summary, although not perfect, the digital learning days proved to be a successful option replacing the traditional snow day in its first year of use at NHS.  Teachers and students will continue to adjust to the new requirements planned for use again in 2019-'20 and benefit from avoiding the need to add more time to the end of the year.  If the interest coming from other districts is any indication, other schools will soon be following suit just like the hottest new trend.