Field of Hydroponics Continues to Grow and Connect with Community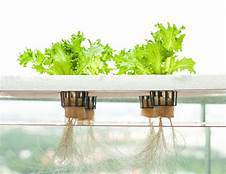 Students and staff continue to progress in the field of hydroponics, aiming to make it accessible to the district by years end, according to Emily Bennett, NHS science teacher.
Bennett, who also ignited the focus on hydroponics in the district, is aiming to benefit not only Neenah schools, but the entire community with its environmentally friendly, locally grown produce. Her interest in hydroponics was sparked after visiting Appeton's Fork Farms in mid to late 2016. Though she saw its immense benefits, she was initially deterred by the cost – $4,000 a unit.
Now, three years later with almost $16,000 in grants, Bennett is aiming to place a hydroponics unit in every school in the district, with an end goal of constructing a lab at the high school.
"My goal is to have a curriculum made for teachers and students to be able to use the units and access all of the awesome things it can do," Bennett said.
From the looks of it, she is well on her way there. The benefits of a hydroponics-based growth system are plentiful and distinct. According to Green Our Planet, an organization devoted to developing school gardening programs throughout the country, hydroponics is a chemical free practice and is 90 percent more efficient with its water consumption compared with a standard garden. It is reliant solely on light and water, and requires no earthly construct, such as a soil, to flourish.
Because of its eco-friendly nature and adaptivity to harsh, unpredictable climates, hydroponics has gained some momentum in midwestern parts of the country, with Neenah being no exception.
That being said, it has clearly also impacted the students of NHS immensely. Whether it be through studying or getting involved with the science behind the work, or simply purchasing produce from the hydroponics department, every opportunity for students to support the work of their fellow colleagues has proven beneficial in some way.
Ultimately, the introduction of hydroponics to NHS has proven to be both successful and effective. With high goals set ahead of them and endless amounts of potential, Neenah's hydroponics department shows no signs of slowing down anytime soon.