Annual District Report Card Released by DPI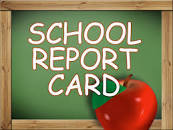 Wisconsin Department Of Public Instruction released the annual district report cards for schools all across the nation on Nov. 12 to show the academic performance of the individual schools and districts by assembling information detailing test scores, student progress, as well as demographics. 
DPI is widely known as the state education and public library management agency where they use specific data to help further there purpose of providing a rating system, which differentiates districts by their performances.
This agency conducts these annual report cards — assigning N.J.S.D.'s overall score of 72.9 and Neenah High School's individual score of 72.3 percent, which students of NHS confirm matches the academic performance that is happening within classrooms. 
Districts and the individual schooling overall scores are quite different by taking in the percents of all elementary, middles and high schools that lie underneath the district umbrella. Typically, high school scores are the main priorities because of drop-out and/or graduation rates. 
The Winnebago County area is made up of six districts that all compete to be the best. Neenah Joint School District has competed with the rankings throughout this county. Racing to first place with Menasha's School District, Oshkosh Area School District, Winneconne Community School District, and Omro School District.
Standing with the highest overall score is Winneconne who significantly exceeds expectations with an overall score of 87.0.  Not far behind is Neenah holding an overall score of 72.9, next is Oshkosh with 72.4 and lastly, falling behind is Omro with a score of 64.1. 
Many of the districts in this county have shown a decrease in their overall scores over the last year. In fact, N.J.S.D. has shown a drop of 2.6 percent since the last report card published in the 2017-'18 school year. But, it is not only this district that has portrayed this. 
At the end of the day, N.J.S.D. is still standing in second place slot for the overall district scoring in Winnebago County. While coming to the end of the day, leads individuals to a simple question, how do these scores get calculated? 
Overall, DPI looks into many different factors in order to determine this score that these districts deserve. A major factor that this instruction looks closely at is the dropout rates — hoping the rate is below 6 percent. Following is the absenteeism rate, which is held tight with the goal of being under 13 percent. While all of the districts in the Winnebago County do not get a deduction to whether or not the expectations are met, there are schools that do.