World Language Program Earns State Award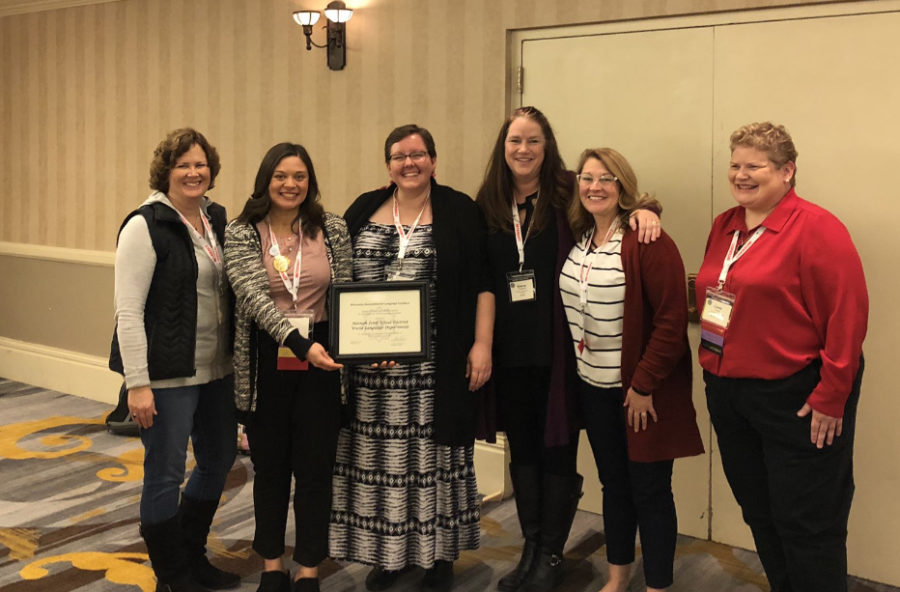 The Neenah World Language department receives the 2019 Donna Clementi Blue Ribbon Award at the WAFLT State Conference (Saturday) Nov. 2. 
NHS was the only school to receive the award this year. NHS is the new kid, in that they never had won this honor before. The award goes to a district that promotes language learning through the most quality programs. 
Because Neenah offers three different languages, multiple different clubs and trips across the world to places like Spain, France and Quebec they are the most qualified program. Schools are chosen based on many other things too like students enrolled, quality teachers, upper-level courses, etc. 
"Our team of educated teachers puts in the extra hours. We aren't afraid to fail in order to succeed, so it feels great for us to now be recognized," Erin Nienas NHS Spanish teacher explains after the conference. 
Last school year the Neenah district put together an online portfolio of the many opportunities students are given, this was widely noticed. According to the Wisconsin Association for language teachers, Hortonville, Menominee and Nicolet schools are recipients of this award in recent years.
Nienas explains that what has changed in recent years, "How Neenah teaches language has changed, now using stories with foreign language and comprehensive input."
The new and improved Neenah world language department looks to keep striving for excellence and seek constant improvement for another year of instruction.