Review: Dairy Queen Blizzard vs. Culver's Concrete Mixer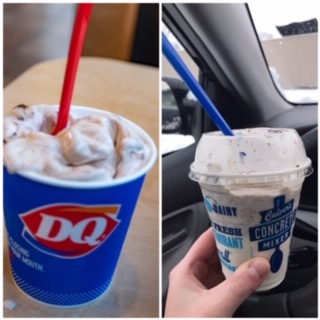 Ice cream, one of America's favorite summertime treats, has a rich history.  It originates in Italy, dating back to the 17th century. It made its United States appearance in the 18th century.  There are hundreds of flavors in many colors across the United States.  The Historian's Cookbook reports  that according to the International Dairy Foods Association, 3.7 million tons of it are consumed in the United States each year alone.
I compared Dairy Queen Blizzard  to Culvers frozen custard Concrete Mixer over the past weekend.
Both are cool, creamy and delicious.  The difference between ice cream and custard is the ingredients. Frozen custard is made with ice cream and eggs added, then cooked to a custard and then frozen. Ice cream is made from milk, cream, sugar and flavoring.
I chose these two restaurants based on their location. They are affordable for high school students and close to school.  I walked into Dairy Queen and ordered a small cookie dough blizzard. When I received it, the ice cream was a little melted. There are 710 calories in this treat, (yikes) and it tasted chocolatey. For a small, the cost is $3.69. The first ingredient is artificially flavored vanilla ice cream, so the flavor is not natural. Dairy Queen says "served upside down, or it's free." I still have yet to catch them not doing it.
When I went to Culvers, I ordered a small cookie dough concrete mixer This treat has 1,130 calories and 56 grams of fat! I hate to say it, but this was my favorite of the two! The ice cream was so creamy and smooth.  It was barely melted and tasted great. Craig Culver claims: "it's the creamiest combination."  Culver also says: "We use farm fresh dairy and the best vanilla." The tasty treat is $3.24 for a small. Culvers always has a "flavor of the day," so there is a new flavor to try each day. Where as Dairy Queen has a "Blizzard of the Month."
Some may argue that they like Dairy Queen better because it is less fattening or because they like the taste better.
Overall, I would pick Culvers over Dairy Queen. I love the creaminess and taste of their custard.