Column: Best Sports To Play in High School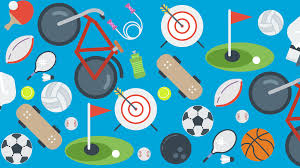 Sports have a vital place in American culture, giving many a platform to join friends and peers to participate in healthy activity. Playing at the professional level is restricted for the elite athletes; however, high school sports come in great variety, and welcome all skill levels. Furthermore, choosing one-long term offers up its share of challenges. Many end up following peers, or simply choosing what is commonplace at their school. 
But, when measured against comradery, scholarships, injury risk and longevity, which sport rises above the others? Which sport is best for the typical high schooler? 
Comradery: 
Male – The greater portion of the youth athletic movement revolves around the bonds formed within a tight-knit group. Football, understandably, leads this category. Neenah kicker and Wisconsin football commit Jack Van Dyke attests to the general consensus. "Football has given me the opportunity to not only meet other people but learn from them and create new relationships with them that will last a lifetime," Van Dyke said.
Larger rosters do not always have the upper hand, though. At times, smaller groups closely related in age build the longer, sturdier relationships. With that perspective, boys tennis comes in at a close second. "I have to work with teammates I previously disliked and work through that to become friends with each and every one of them," longtime Neenah tennis player Nolan Welter said. Welter also mentions how traveling in team vans to Milwaukee and Madison, which they did six total times last season, helps the players bond before and after tournaments.
Female – The same principles certainly apply for tennis, but studies from Sean Gregory, a senior writer at Time, shines light on a different sport. Girls basketball ranks as the best sport for physiological upside, which goes hand in hand with teamwork and sense of personal improvement. Although a certain level of competition exists between teammates, the sport itself requires cohesion for success, which fuels the team-oriented culture.
Scholarship
Opportunities

:

Male – Men's sports offer an against-odds path to free schooling. Football and hockey, two typical sports provided at Wisconsin high schools, offer odds higher than 43:1 to earn a college scholarship. Basketball and baseball hover around the 60:1 range, tennis clocks in at 73:1, and volleyball bottoms out at 177:1 odds, per Marketwatch.

For boys hoping to specialize in a niche, no clear-cut route to a scholarship exists. 

Female – For women, the pursuit of a scholarship holds less of the formidable odds that litter the men's path. In fact, finding a niche could prove more beneficial, and rather simple. Based off information from Marketwatch, sports such as rowing, equestrian and rugby have greater than 10:1 odds for a scholarship, despite their lack of popularity. 

Track and field and basketball, the two most popular women's sports by quantity of players according to Marketwatch, have over 40:1 odds for a collegiate scholarship, while tennis follows closely behind at 48:1. In general, the odds for a women's scholarship outweigh men, which gives many female athletes an advantage in the field.
Injury Risk:
Male – Injury is synonymous with football, a sport thriving on thrashing helmets and general roughness. Concussions have crippled the industry, keeping kids away at a young age and causing serious issues at the professional level. Studies by Healthline support that football, along with rugby, cause the most hospitalized injury.
Female – Without football, the most injury-prone female sports differ greatly. According to London's Daily Telegraph equestrian causes the most injuries, particularly due to the unpredictability of the horse and level of difficulty for beginners. Furthermore, they claim that basketball and soccer causes great injury risk, which includes common sprains, tweaks and the growing risk of head injuries.
Longevity:
Male and Female – Finding a sport at a young age may not follow the competitive-minded thought process that coils around many youth parents and players. Some seek a hobby they can enjoy with friends in a non-competitive environment. For both sexes, tennis takes the crown. Studies from MDLinx show that active tennis players live on average 9.7 years longer than people who do not exercise regularly. Badminton, the next closest sport in terms of extended lifespan, adds 6.2 additional years, while soccer comes in at third with 4.7 years, according to MDLinx. 
Swimming, cycling and running, too, offers strong health benefits and are lifetime sports.
Considering these four categories, tennis outweighs all other sports for both genders. Reduced injury risk allow many to play until their 70s and 80s, and for high schoolers at Neenah, comradery amongst teammates and scholarship opportunities remain above par. 
So, for freshmen and sophomores seeking a new activity or seniors seeking a healthy hobby for college and beyond, consider the extensive upside of tennis.
To start up now, the numerous remodeled outdoor facilities in Neenah as well indoor courts at Valley Fitness allow for year-round introduction into the lifelong activity.