Review: Crab-u-lous Crab Rangoons in Neenah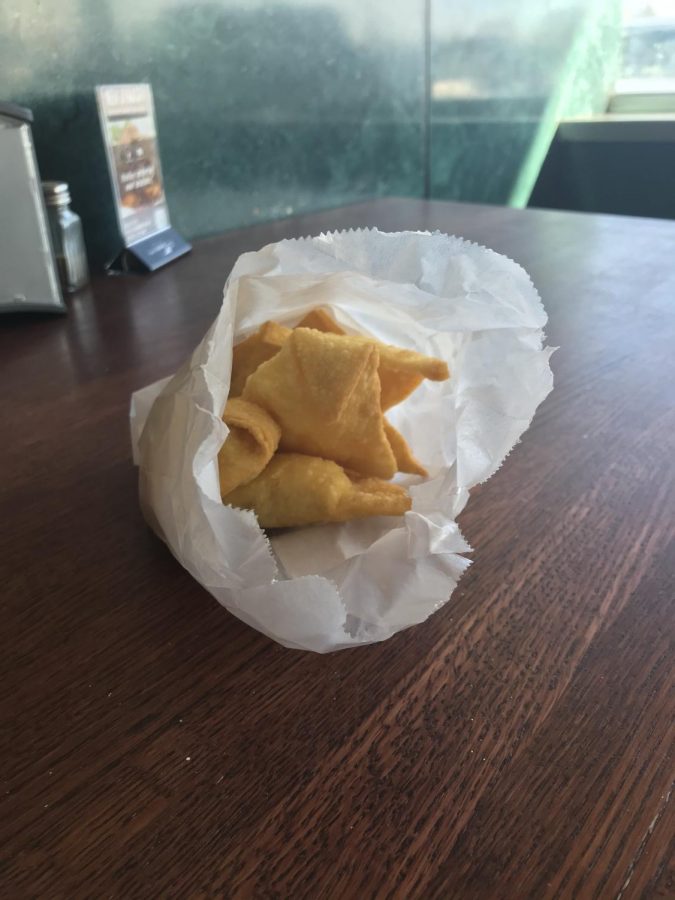 Crab rangoons are one of the most popular appetizers in American-Chinese food. In authentic Chinese food, dairy is rarely used because of the high percentage of lactose intolerance. Dairy has not been a part of the mainstream Chinese diet in decades, which is interesting considering these crab and cream cheese stuffed wontons can be found at most Chinese restaurants in the United States and beyond, but not as far as people would think. Actually, crab rangoons do not show up in Chinese culture at all. The difference between authentic Chinese food and American-Chinese food is drastic, contrary to popular belief. According to Business Insider most people from China have never heard of popular dishes like General Tsao's Chicken or crab rangoons. That does not mean these dishes are not delicious, though!
To fully investigate the delicacy of American-Chinese food, I am going to compare crab rangoons in the City of Neenah and decide which one is the best. 
Through research on popular Chinese restaurants in the city of Neenah, I went to three locations with my friends, Katya and Isaac: New Dynasty, Hong Kong Buffet, and King Wok. We purchased one order of crab rangoons and compared the three restaurants based on price, taste and appearance. Then, we rated these restaurants using a 5-star scale.
First, we went to New Dynasty Chinese located on 1413 Commercial Street in Neenah. According to its website, one order comes with eight crab rangoons for $4.65. For the appearance, they were large compared with the other crab rangoons. The inside, however, lacked filling, but the batter used was sweeter than the others. Overall, we were satisfied with these crab rangoons, but we wanted more.
Senior Katya Schumacher, a local crab rangoon enthusiast, thought New Dynasty Chinese had delicious crab rangoons. "I found them to be very sweet and it's a convenient location, but something is missing," she said. 
Next, we went to Hong Kong Buffet, which is at 145B W Wisconsin Avenue in Neenah. According to its website, one order comes with 10 crab rangoons for $3.50. When we went in, it was different. For to go orders, you take a to go box, fill it with what you want, and it is priced based on the weight. For us, we filled the box with nine crab rangoons, a few egg rolls, chicken, and some sushi because lunch was near. In total, we paid $6.31 which was incredible considering how much food we got. These crab rangoons were the smallest of the three, but the taste made up for it. The wontons were light and airy and were filled with delicious filling. Overall, these were delicious and were everything we were looking for.
Finally, we went to King Wok at 1095 S Lake Street in Neenah. According to its website, one order comes with eight crab rangoons for $4.75. The crab rangoons were made fresh, so they were hot, which burned our tongues. The price was reasonable, but they were the most expensive out of the three options. As for the appearance, they seemed a bit small and greasy, which was not appealing. We were not a fan of these. 
Ultimately, the scores of crab rangoons are: New Dynasty with 4 stars, Hong Kong Buffet with 5, and King Wok with 3 stars. This leaves Hong Kong Buffet as the winner of the best crab rangoons in the City of Neenah. Their crab rangoons were cheap and were good quality with a full taste and light wonton that was perfectly crisp and crunchy. On the other hand, King Wok's crab rangoons were too greasy and New Dynasty's lacked flavor. Hong Kong Buffet had exactly what we were looking for. 
Throughout this adventure, I experience a glimpse of real American-Chinese food and how bringing ethnic foods to our society affects people. American-Chinese food may not bring the true culture of China here, but creating our own version brings two cultures together to make something great.