N.J.S.D. Falls Behind U.S. Department of Education Standards of School Safety

Every day, millions of students attend school with no threats to their safety; however, in the case that a threat is posed to a school, students must be prepared for any possible situation. Given the tragic mass school shootings in the United States such as Columbine, Sandy Hook and Parkland, among others, the U.S. Department of Education takes school safety incredibly seriously and spends considerable resources to establish a standard of safety for active threats. 
In 2018, the U.S. Department of Education presented the Final Report of the Federal Commission on School Safety to the president. This 180-page report establishes a new precedent of school safety training. Within the report, the government encourages new methods of training, of which most prominently is the progression of grade-level safety knowledge and training (See infographic).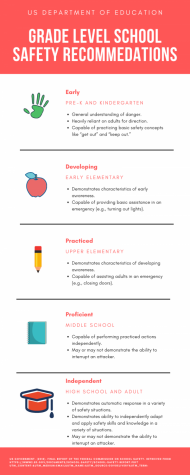 Preschool-aged children possess a completely different level of maturity and understanding compared with high-school students; thus, training must be appropriate to grade levels and hit standards of safety protocol.
In N.J.S.D., elementary students are given basic lockdown-instruction, but that instruction never progresses as students grow older. NHS teachers are encouraged to have discussions with their students, but those discussions receive no direct instruction and parameters from administration. To comply with modern standards of school safety, N.J.S.D should develop age-appropriate training levels to enhance safety for students of all ages.
Safety training institutes, like the ALICE Training Institute, have programs already developed and professionals instructing at schools, police departments, businesses, etc., all over the country. In total, the institute has prepared 18,908,600 people from all 50 states. ALICE's website directly states the glaring disparity and liability risk between the lockdown-method and new, safer methods.
"In its 2007 publication, the U.S. Department of Education's guidance for active shooter response was limited to lockdown-only approach … these techniques originated during the cold war … In 2013, the U.S. Department of Education spent considerable resources researching active shooter events. Their findings have resulted in a change in guidance." 
ALICE training complies with new standards by teaching the sequence of alert, lockdown, inform, counter, evacuate. Despite the U.S. Department of Education recommendation that all school faculty receives in depth, hands-on training, N.J.S.D. staff members have never experienced a real-world simulation or seminar on school safety.
Six years after the 2013 change, Neenah Joint School District still teaches staff and students that the primary method of safety during an internal threat is to remain locked-down, sitting in the corner of a classroom. This school year, the extent of instruction to high school students came from a video by Principal Brian Wunderlich. Sent to NHS parents and viewed by all students, Wunderlich explains the administration's stance: training students to be thinkers.
"When you think of school security, really what we want to be doing is training you to be a thinker. The single most important thing you can do in the event of a security-type situation is think on your feet and get yourself to a safe location," Wunderlich said. 
Although students must think on their feet in a crisis situation, without proper training, quick-thinking will not come from a place of knowledge and preparation, but rather fear and impulse. 
Also included in the video are the two locations where NHS students are encouraged to flee to in the event they run out of the building during an active situation. Former Menasha PD Officer, NHS parent and FVTC criminal justice instructor Aaron Zemlock states this places students at an even higher risk, as reunification locations should remain private so as to not provide information to a potential shooter on other locations students may be held.
Undoubtedly, N.J.S.D. cares about its students, but if the administration wants to provide students with the most modern standard of safety protocol, they must improve on current procedures.