Album Review: "Damn." by Kendrick Lamar Bolsters Support for Artist of the Decade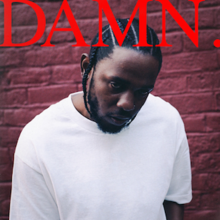 Kendrick Lamar has been one of the defining artists in hip hop in the last decade. With over 23 million monthly listeners on Spotify, it comes as no surprise that Kendrick Lamar was dubbed the "artist of the decade" by Insider's Mark Braboy. With exceptional albums such as To Pimp a Butterfly and Good Kid, M.A.A.D City already under his belt, Kendrick Lamar essentially slingshotted himself to superstardom and mainstream success through the release of his fourth major-label album, Damn. 
Damn. is my favorite album of the 2010s for a plethora of reasons.
The main aspects that put the album at the front of the pack, however, are the creativity and the message that Kendrick Lamar develops in his biggest album to date.
The Creativity
Before hearing any of the music the album establishes a straightforward and minimalist tone. The name of every song on the album consists of just one word, consisting of all capital letters, followed by a period at the end. The song titles also follow a theme of being abstract terms such as "LUST.", "PRIDE." and "LOYALTY."
The song titles are the tip of the iceberg; however, the lyricism and word play is spectacular. Thought provoking lines like: "It was always me versus the world, until I found It's me versus me" help to illustrate Kendrick Lamar's internal struggle, which is something I think is wonderful to see in the rap genre — stereotypically filled with gangsters.
On another note, the diversity of sounds within the album is astounding. "DNA." and "HUMBLE." are aggressive, fast-paced, braggadocious tracks that provide a purposeful contrast from the more upbeat "GOD." and "LOVE." Despite having conflicting styles on the album, there is no loss of cohesion as the message helps glue the pieces together.
The Message
Observant listeners can take away much from Damn. I quickly realized that the entire project is all about the mind of Kendrick Lamar. His internal struggle over how to handle success, fame and riches is all over the album. Along with his interpretations of the previously mentioned concepts of love, loyalty and lust. It quickly becomes apparent that Damn. is a complete dissection of Kendrick Lamar's own brain, and he holds back nothing. Four out of 14 songs are explicit, so although the album may not be appropriate for everyone. Nearly anyone can relate to the raw emotion that is put on display in the lyrics of every track.
Ultimately, from the day Damn. was released in 2017, I knew that it was something special, and so did millions of others considering it won best rap album at the Grammys. Few artists in any genre are able to and willing to tell put their full vulnerable self on display for the world. Kendrick Lamar continues to cement his name among the greats of rap music by breaking down the negative stigma around rap music. Time says that Kendrick Lamar is one of the top 5 most popular artists on Spotify, which is helping bring more eyes and ears to the rap genre. Damn. shines because Kendrick Lamar took calculated risks while creating songs that are ripe in both creativity and relatability. Kendrick Lamar struck a perfect balance of highlighting both his failures and successes in an instant classic album that left me deep in thought and speechless for a decade, with no other words than "damn." 10/10