Review of Barbershops: The Best Men's Haircut In the Valley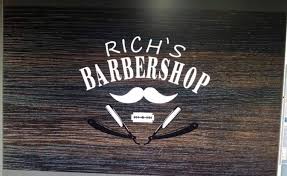 According to The New York Times, the average male goes in to get a haircut every three to six weeks. The idea of the barbershop goes back to 296 B.C when Greek men would meet up and trim their hair and beard while they would tell each other about their day.
 Later in the 19th century, the first barbershop school was opened in Chicago. The institution was the first of its kind in the world. It brought professionalism, education and new people looking for jobs. In today's world, a haircut determines how a person feels and looks. Barbershops have been growing in locations near the Fox Valley in the past 10 years. According to a poll of 500 people, The top three barber shops were Rich's Barbershop, Ace of fades Barbershop and Taperz Barbershop. All of those barbershops are located in Appleton. Although they are all barbershops; they are all unique in their own ways. Every barbershop had different reviews that made them stand out more than others. The most common review was:  "It's all about the experience."
Leading in reviews is Rich's Barbershop LLC, rating at 4.8 stars according its website. Trailing right behind them is Ace of Fades with 4.7 stars. Lastly, Taperz with a rating of 4.5 stars. Because every barbershop has the same mission: How do we know which one is the best?   According to haircutinspiration.com,  the perfect barber shop has to have a barber that knows how to cut men's hair, proper tools and equipment, and an outgoing conversation, and finally an amazing price. With that, the only barbershop that meets those expectations is Rich's Barbershop LLC in Appleton with a price of $13  with the top ranked barber named Carlos.
Rich's Barbershop has been in the area for a mindblowing 10 months — leading the barbershop industry in the Fox Valley. "By the looks of it, kids around the United States tend to get the fade haircut on the sides and a little trim on the top," Calrlos confirmed. So if you are looking for the best haircut in the world, Rich's Barbershop is the place to go.