Energy Drinks Pose Harmful Health Effects for Consumers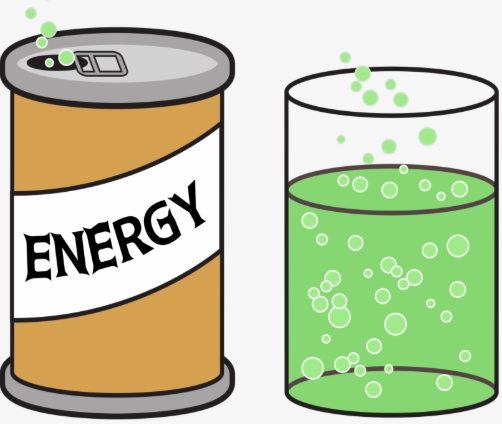 Picture this: you are walking down the grocery store aisle to pick up a quick drink after practice. You browse the drink aisle stacked with transparent plastic water bottles, sparkling fruity drinks, and wait. What is that bright, shiny logo? Energy? You think to yourself: I really need that after that hard workout today. Hopefully, this can get me through doing homework. You do not even bother thinking about the benefits or consequences — who cares about one little drink? But what exactly does an energy drink consist of?
Considering energy drinks get a bad reputation, some shy away from drinking them altogether, despite appealing advertisements. Drink companies sell it as an "energy boosting" drink that is meant for after school sports practices or before a game drink. The key selling point for most energy drink companies, such as Redbull, is all about sports and athletes and how better they preform while drinking their product. Furthermore, on Redbull's website, the homepage only regards sports. Some headlines include: "Travis Rice Prepares to Relaunch The Natural Selection Backcountry Event," "Everything you need to know about F1's return in 2020," and "Learn about the life-changing things that shaped Dassy's dance career." All these headlines on their website surround athletes and sporting events, promoting the fact that Redbull is intended as an exercise drink. Additionally, on the top of the website, the options are TV, Events, Athletes, and then finally their Products. It seems like their goal is not to sell their products on their website but to ingrain in the consumer's brains that if athletes and celebrities drink it, it must be healthy. 
In addition, some other benefits that energy drinks provide include easy supplements. For example, they contain taurine, Vitamin B, ginseng, and glucuronolactone which all may provide a long-term energy effect. Along with this, they also offer zero-calorie products, which many high caffeinated drinks cannot do. Lastly, compared with other high caffeine drinks, such as coffee, energy drinks cost much less. A popular example, a Starbucks coffee, typically costs about $5. On the other hand, the average price of an energy drink is around $1 to $3, making it much more appealing to penny-saving consumers.
On the other end of the spectrum, some bad energy drink effects are headaches and migraines. High caffeine intake can lead to withdrawals that result in reoccurring headaches. Another effect is cardiac arrest; those who already have heart issues have gone into cardiac arrest only after a few energy drinks according to the article "Top 15+ Energy Drink Dangers" on Caffeine Informer. Additionally, a serious mental effect includes increased anxiety. While drinking an energy drink, two genetic variations are prone to feeling more anxious. Other health problems include aggression, fatigue and insomnia when consuming 2 or more energy drinks each day. Some other significant health effects include type 2 diabetes. As a result of all the sugar intake from energy drinks, this can wear out someone's pancreas leading to the disease.
The question at hand is: are energy drinks good for you? The obvious answer is no, but many continue to drink them, even after being warned of their after-effects. Sean Sue, M.D., is an emergency medicine physician at Piedmont Atlanta Hospital. He said this about energy drinks: "Even the different types of energy drinks can have different effects. I could drink a Monster energy drink, no problem, but when I took a 5-Hour Energy Shot, I felt flushed and my heart began racing. There's just so much concentrated stimulants put into your body at one time. It's similar to taking a shot of liquor versus sipping on a mixed drink over an hour." According to Sue, drinking an energy drink puts the consumer's health at risk.
On top of all this, energy drinks often target teens, who are more at risk of related health problems. A lead researcher, Jennifer A. Emond, PhD, Department of Community and Family Medicine, at Geisel School of Medicine in Dartmouth, "examined a database of television advertisements broadcast between March 2012 and February 2013 on 139 network and cable channels and found that more than 608 hours of advertisements for energy drinks were aired." As also stated in the article, 45.6 percent of those 608 hours were aired on children/teen channels.  Dr.Emond said their results do not support the idea that energy drink companies intentionally target these channels, however "ads for energy drinks were primarily aired on channels with themes likely to appeal to adolescents, and adolescents are likely exposed to energy drink advertising via television." As a result, energy drink ads often find their way onto adolescents' radars. 
Next time you walk the drink aisles, think again about what you are consuming and the possible effects. Although some benefits exist such as energy boosts, supplements and zero-calorie options, disadvantages also appear, such as headaches and migraines, increased anxiety and mental health problems. An energy drinks are not just beverages, they are a choice that can affect your body for years to come.