N.J.S.D. Transitions to Online Learning Beginning Oct. 5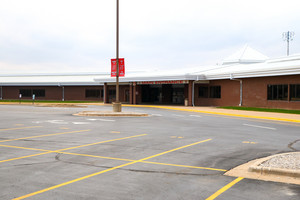 In a statement released to all NHS teachers, Principal Brian Wunderlich announced that all N.J.S.D. students will be transitioning to virtual learning beginning Monday.
A transition of this scale means that the district has reached the Red Threshold where an active COVID-19 case exists with "significant contact with students and staff" in and outside of school.  This comes after a recent surge in cases in Winnebago County and Wisconsin.
The N.J.S.D. COVID-19 dashboard confirms the 15 active cases of COVID-19 at NHS and 129 students in quarantine.  According to district policy, this virtual learning period will last for two weeks and students may return to school on Oct. 19, though this may change if analysis of new case numbers reveals that the risk is too high for students to return.
"Virtual Learning is not really good, but if we need to do it as a school, I'll survive," says sophomore Quinn Koeper.  He points out the occasional technical difficulties when using the ZOOM Application, which can occasionally make it difficult to learn and be productive.  "It is what it is," he adds.