Documentary Triggers A Wake Up Call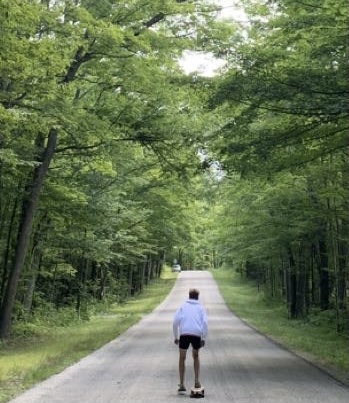 Senior, Cooper Moss, challenges himself to delete all social media because he feels like it consumes his life. After watching the documentary, The Social Dilemma, he is disgusted with the idea of how social media can control his thoughts.
He recognizes that it not only damages mental health, but it is also straining to our society and relationships as a whole. At first Cooper contemplates whether to take the next step of deleting social media because it's so ingrained in his brains that he need to have it like his need for food. After asking himself "why not?", the answer is clear as day.
With extra time away from his phone he is doing things such as: playing tennis, watching movies, doing homework, reading, and longboarding — things he enjoys fitting into his schedule. Activities that he no longer forces himself to skip as he previously clings to his phone screen. 
Reflecting on his experience over the past three weeks with a smile on his face he says, "It's been awesome honestly, I really like the freedom. It's kind of like being off the grid in a way."
Through this experience he recognizes how important some apps can be for communication and finding out news, but he also realizes how much unimportant information he had been taking in. He doesn't know how much more time he will take away from social media; whenever Cooper Moss decides to redownload these apps he's going to be more aware of the amount of time he spends on them each day, hoping to drastically cut his screen time.
Social media is a nightmare in disguise. To anyone debating taking a break from these addictive apps his advice is, "Why not try it? I think it is a risk you should take."