Review: Make Quarantine Less Boring with Netflix's Latest, The Queen's Gambit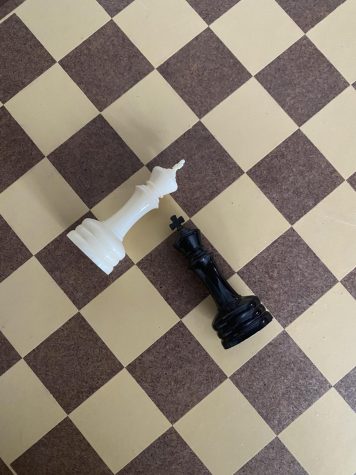 While quarantine took over the majority of 2020, everyone was trying to find ways to fill the time.  Those motivated picked up a set of weights and got in shape while most of us continuously browsed Netflix looking for a new show to binge. I personally found myself in luck when coming across The Queen's Gambit, a brand new miniseries based on Telvis Walter's 1983 novel, which shares the same name. 
The show received 99 percent on Rotten Tomatoes and was created flawlessly because it addresses major issues such as sexism and drug abuse, but it also tugs on the heartstrings of viewers leaving them only wanting to know more about the fictional Chess Prodigy, Beth Harmon's life.
After watching the seven-episode series in a short span of just two days, I found myself so consumed in researching the game of chess and recommending this show to anyone and everyone I could. I discussed the show with NHS senior and chess club member, Charlie Mitchell. "Queen's Gambit did a fantastic job depicting a sport that is incredibly hard to depict. Most sports movies are fairly easy to make because the sport is easy to understand. Chess, on the other hand, you have to be good at to be able to understand and appreciate the kind of moves top players make. The directors understood this and were able to work around it by focusing more on Beth Harmon and her story rather than the game itself," Mitchell said. 
I personally could not agree more with his thoughts. If one can make a show about a game nobody understands and still include a great plot with well-developed characters, then something has definitely been done right. 
The Queen's Gambit has practically swept the nation myself included. According to Nidia C. Kilde from Netflix's official press release, inquiries for "chess sets"on eBay are up 250 percent and in the first 28 days of the show being released 62 million households chose to watch it. 
Director Allan Frank did a fantastic job on The Queens Gambit because it does deal with dark and heavy topics such as abandonment, addiction, suicide and drug abuse. The fact he could incorporate that into a show primarily based on chess is a testament to his wonderful writing abilities. According to IMDB, Frank has been nominated for a Primetime Emmy, a Golden Globe, and multiple Oscars, which only makes the skill and talent he holds as a director more evident. 
I selected this show with a little hope for being entertained by the game of chess, which I barely understood and to be honest still do not.  That is the beauty of this series – you don't need to understand chess to love it. I was proven wrong by the writing, acting, set and plot. The Queen's Gambit is both a thrilling and elegant show that will leave viewers begging for a season two.