Review: Find the Best Cookie to Brighten Your Holiday Season
Santa Clause is coming to town, and his tummy is growling for your cookies. I'm going to help you find the best kind of cookie to knock Santa's socks off this year. Making cookies is a super pleasurable family activity; during hard times like COVID-19, family bonding is crucial. Highlandspringsclinic.org confirms that family bonding boosts self-confidence and reduces stress. With extra time on your hands, you can finally try out some new recipes. A poll done by Hunter NYC shows that 46 percent of people report baking more since quarantine started. 
Any of these recipes will be sure to bring your family closer together for the holidays. With my family, I baked and rated three different kinds of cookies to find the overall best one for the holiday season. 
First, I started by making Chocolate Crinkle Cookies. The overall process of making these cookies was effortless. The only thing that was time consuming was having to let the dough harden in the fridge overnight. For this recipe, you also have to roll the dough in powdered sugar before placing it on the pan, which is an extra step. For those reasons, I give the simplicity a rating of 4 out of 5 stars. Rolling the dough in powdered sugar is definitely worth it because when the cookies are done baking they have a cool cracked pattern, and the powder reminds me of snow. Therefore, I give them a rating of 4 out of 5 stars for holiday feel. When having the first bite, the taste was unbelievably delicious. My mouth waters just thinking about those cookies, I would definitely give them a 5 out of 5 stars for taste. Here's the link for my family's Chocolate Crinkle Cookie recipe.
Second, I made Traditional Cutout Sugar Cookies. I was excited to make cut out cookies because they are such a holiday classic, but the long process quickly deterred me from wanting to make them again. After letting the dough harden in the fridge for hours, I had to roll it out and use cookie cutters to make the shapes I desired. This took up so much time having to reroll out the dough every time I ran out of room for more cookie shapes. After they got out of the oven, I then had to still frost and decorate them. Anyone who is going to make these cookies needs to set aside a huge chunk of time, so I would rate the simplicity a 3 out of 5 stars. I would also give the taste a rating of 3 out of 5 stars because I thought they were rather bland. After all the hard work, they truly did bring me holiday spirit with the green and red frosting, sprinkles and Christmas shapes. I definitely would give them a rating of 5 out of 5 stars for holiday feel. According to a local bakery called Manderfield's Home Bakery, cut out cookies are their best selling item during the holidays. Here's the link for my family's Traditional Cutout sugar Cookie recipe.
The last kind of cookies I made were Peanut Butter Blossom Cookies. These were by far the easiest cookies to make; they were super quick and simple. I got to mix them up and put them in the oven right away, so the simplicity rating is a 5 out of 5 stars. If I needed to make a batch of cookies on a time crunch I would definitely go for these. After making the cookies my holiday feel craving was left unsatisfied. I do not understand why these are a holiday cookie, they just seem to be like an average cookie that do not have anything to do with the holidays. Consequently, I give the holiday feel a rating of 2 out of 5 stars. These peanut butter cookies right out of the oven were so soft and gooey. They were so delicious and warm, but once they cooled down they definitely were not as good, so I give the taste 4 out of 5 stars for the rating.
Here's the link for my family's Peanut Butter Blossom Cookie recipe.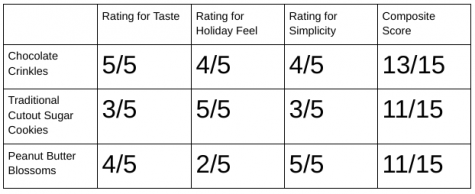 Combining the three elements I scored the cookies on, the Chocolate Crinkle Cookies were the clear winner. The relatively easy baking process and unmatched taste made them an easy champion.
"They're like fudge mountains melting in your mouth," my brother Jack Kippa, a cookie connoisseur, said.
With this recipe, Santa is bound to search your kitchen for a few more cookies Christmas morning while dropping off your presents. Whether you are staying in this year or having a social distanced gathering, these cookies are a delicious dessert the whole family will love–and probably nag you for the recipe.