Review: Which Canon Camera is the Best for a Beginner Film Photographer?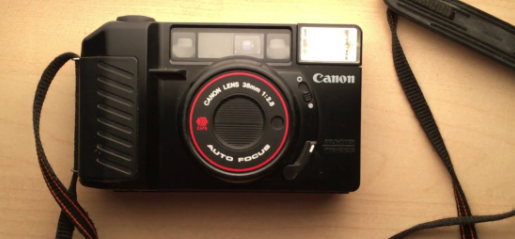 Over the treacherous quarantine, many of us picked up new hobbies or learned new skills. Maybe it was hiking, painting, or becoming a professional baker in your own kitchen. For some, it was film photography. If you are looking to pursue film photography, you may wonder which 35mm film camera is the best for you. 
In the realm of film cameras, according to The Digital Camera World, Canon is superior because of its leading steps in the industry. So to make things simple, we will focus on the best Canon 35mm film camera based on price, quality and user-friendliness. 
The Canon Sure Shot is an excellent beginner's film camera because of its simplicity. Unfortunately, the Sure Shot is no longer in production, but according to Collectiblend, a vintage camera pricing guide website, they average used from $20-30. 
The Sure Shot is popular as a vintage camera because it has such simple features: a built-in flash, an easy-to-use mode dial, and a permanent lens. The Sure Shot is light, durable and simple to use. 
"I can't imagine using any other film camera. It's everything I need and more," senior Syri Brandt, a Sure Shot user, said.
 The Canon T50 is a bit more advanced; it has several modes, a flash mount, and an interchangeable lens system. Even used, it is also on the pricier side- ranging from $20-100, depending heavily on condition. 
The T50 paired with a 50 mm lens takes amazing pictures, but it is awfully bulky when you attach the flash mount, and even heavier with a larger lens. A popular camera review site, cleverly titled, "Casual Photophile" also claims to have an issue with the bulkiness. Besides that, the Canon T50 is an excellent beginner's film camera.
The Canon AE-1 is the classic vintage film camera. It is not too bulky or heavy while still being able to have the feature of an interchangeable lens. 
With manual being its main setting, this may take a couple of days to learn how to perfect taking a picture on the Canon AE-1. The biggest turn-off of this camera is its expense. Canon AE-1s can be upwards of $180, for a beginner film photographer, this is obviously not ideal. Although in this case, you pay for the quality that you receive.
After analyzing the pros and cons of these three great 35mm Canon film cameras, based on price, quality and user-friendliness, the obvious choice is the Canon Sure Shot. While still maintaining great quality pictures, the Sure Shot is the best priced, especially for a beginner film photographer. Although it does not have any zoom, the Sure Shot makes up for it in many different modes that can alter to any kind of film you decide to use. It is simple, durable and easy to take with you; it is perfect for the newbie film photographer.