Review: Sister Act Performed on Pickard Stage or Livestreamed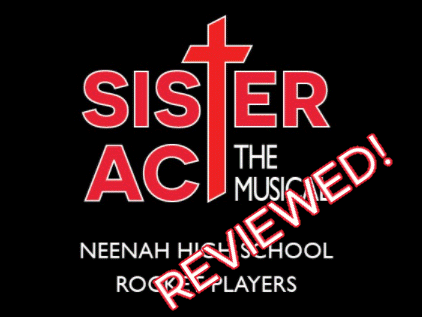 Reviewer's Note:  This review is of the staff-only screening, which occurred on Thursday, April 15.  There is a chance that they'll make modifications before premiering to the general public.
I have been told by a member of the cast that because of COVID-19 related constraints, this was all put together in the span of the last three weeks.  It certainly does not feel like it.  
Sister Act tells the story of Deloris (I heard Doris), an aspiring singer who must go into hiding after witnessing a murder.  In order to protect her life, the police send her to live in a church, wherein she quickly meets a cult-like group with a rigid personality.  However, upon introducing her musical talent, the group begins to take a liking for her and what she has to offer.
Neenah's talented actors continued to express great energy throughout the show.  Each major character had a well-defined personality, from the loud and booming antagonist, to the humble churchwomen, to the henchman who spoke Spanish with slight grammatical inaccuracies.  This play, however, continued with what seems to have become a tradition of the NHS drama club using new, inventive ways to tell a story.  Throughout the play, none of the actors ever left the stage, and simply sat down, turned around and waited until it was their turn to speak again.  Additionally, no backdrops were used, and characters, which would normally be standing together were instead on opposite sides of the stage, perhaps in compliance with social distancing regulations.
This worked better in some scenes than others.  Seeing a character on the left throw a punch and a character on the right falling to the ground took away from the realism, but it was actually timed and executed well.  While watching, I also learned of the true volume of a gunshot – my ears were left ringing for several minutes.  The songs and dances were choreographed really well, and the actors demonstrated that they had practiced – even if they, allegedly, learned all their moves off of YouTube videos.

If you have a family member in the cast and crew, you can see the show in person at 7 p.m. on Friday and Saturday.  If not, it will be livestreamed at rocketplayers.com and access is $15. 
I highly recommend it!