Division 1: Behind the Scenes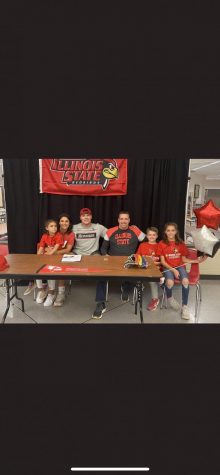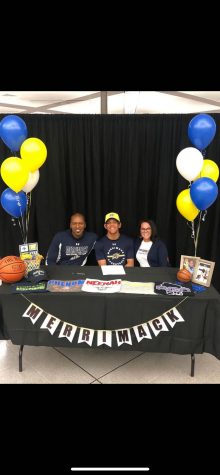 Division 1, the pinnacle of amateur sports, recently welcomed two Neenah students: Chevalier "Ice" Emery and Gradin Taschner who were able to make this dream come true.
Senior Gradin Taschner signed to play Division 1 baseball at Illinois State University on Nov. 10 and Chevalier "Ice" Emery signed to play Division 1 basketball at Merrimack College in Boston. While this achievement is the gold standard of athletics, not many people know the work and pain it took these athletes to reach their goals.
 "As a kid, I grew up in the game, with my dad being a professional baseball player I was always with him and on the road. You could say I didn't have a choice but to adapt to the big-league lifestyle,"  Taschner said.
For the three-sport standout (baseball, basketball and volleyball), baseball was the sport that came most naturally to the son of Major League southpaw, Jack Taschner.
Taschner's freshman year, he went to go play in a tournament at Illinois State.  He did not know what it was, but it felt different.
"I felt comfortable in the city. Something just felt right, and I kept telling my mom this is where I want to play college baseball," he said.
Fast forward a couple of years, in Taschner's junior year, he kept his word to his mom and committed to Illinois State. 
In accord, Emery, offered insight into what made him fall in love with Merrimack College.
"The coaches are great people, and I think they have the skills to bring me to the next level," Emery said.
Boston is huge, with a population of 675,000 according to the U.S. Census Bureau, Emery talked about what it is going to be like moving to the big city.
Emory knows that moving across the country is going to be a culture shock, but he looks forward to  independence.  College will allow him to "figure out the real me."
On an emotional note, Emery gave a tear-jerking statement about family:  "I am mostly nervous about leaving my brothers. They are nine and six and this is the stage where they grow the most. They will be 13 and 10 by the time I really get to see them again." 
Emery is a man possessed; he will sometimes stay at the fieldhouse until late in the night shooting baskets, striving to be as perfect as he can be. All of this work paid off, as he gets to start his childhood dream of playing Division 1 at Merrimack College this June.
Being able to play in Division 1 athletics is an incredible accomplishment. Emery and Taschner made it through hard work, dedication and a persistent need to improve. Hopefully, these two Neenah Rockets continue to soar to new heights at an even higher level of play.