Review: Disney's Encanto Enchants Audiences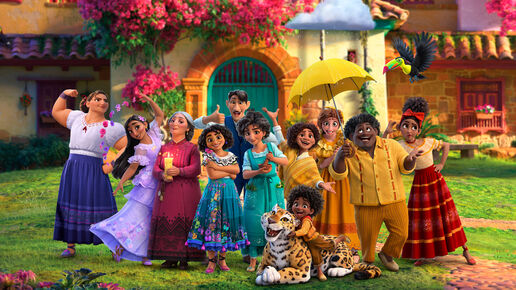 Encanto is Disney Animation Studios' newest flick — and their 60th overall. As far as anniversaries go, this is an especially enchanting one, breathing magic back into the studio after a series of subpar sequels and a recent box office disappointment. 
Set in Colombia, Encanto follows Mirabel (voiced by Brooklyn Nine-Nine's Stephanie Beatriz) who is the only "ungifted" person in a familia of superpowered do-gooders. It was released exclusively in theatres on Nov. 24 and does not plan to see Disney+ until Dec. 24, but it has seen a nearly $155 million gross since then. In the current film environment, the figure is meager, but to the average moviegoer, the film is priceless.
First and foremost, the story explores ideas of family tension: finding one's place as an outcast and learning to trust in and accept the strengths of others. Stephanie Beatriz also feels the film describes "prescribed roles" families assign to each other. While these are heavy-hitting themes, Encanto summons them through a plot that feels wholly original; unlike Disney's roots in animating fairytales, Encanto is a work of pure imagination despite feeling like a Colombian fairy tale. The only place where this dreaminess is detrimental is in the pacing. Emotional moments are potent with some of the slower scenes, and faster scenes are incredible amounts of fun too, but sometimes they suffer from overstaying their welcome and evoking questions like "shouldn't we be doing something else?" like in some of the musical numbers.
When a musical number takes away from the pacing, it makes up for it in prowess. Being the work of Lin-Manuel Miranda, famous for his work on Hamilton and In the Heights, Encanto's score is under heavy scrutiny from critics. While this remains the most negative aspect in many reviews, to the average listener, the music is enjoyable and feels comparable to Frozen's "Let it Go." With Lin-Manuel's ambition to "write a love letter to Colombia itself," beats like "We Don't Talk About Bruno" and "Surface Pressure" are a joy to hear, even if some of them feel like they are only relevant in the context of the movie like "The Family Madrigal" (2021).
Speaking of "The Family Madrigal," each character breathes life into the movie in a different way, all with their own unique powers to share. The abilities each member possesses feel important to their character and not just like a prop to compare with Mirabel; for example, her mother Julieta can make food that has incredible healing properties, accentuating her motherly and caring demeanor. Had these powers been decided separate from their personalities, Encanto would be at risk of feeling like another Marvel production instead of a Disney Animation Studios production. But, character emphasis in the film was also done exceptionally well, as there is not a moment in time where one person feels like they have spent too long on-screen compared with another.
There is something to be said about their visual appearance as well, as the "color-coding" of each character helps the audience easily remember their relation in the family; blue, yellow and green for each of Abuela Alma's children, and slight variations for their children and spouses. The visual aspect of Encanto is something to be gawked at and is definitely helped by its theatrical release. Gazing at dazzling clashes of colors and textures like in Antonio's jungle-themed room harken back to feelings of seeing the glowing water in Moana for the first time. The animation is magical. And this is even without mentioning the technical leaps the animators took to make details like realistic cloth and sand movement feel so authentic.
Overall, Encanto is a spectacle of modern Disney movies and should be enjoyed by all — especially while it is still in theatres.