Review: Niko's Gyros – A Taste of Greece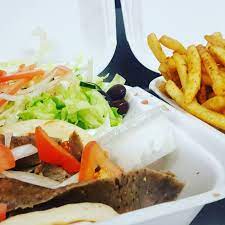 Beautiful islands, breathtaking views and delicious food. That is what most people think when they think of Greece. Wisconsin, however, does not quite deliver that same feeling. Fortunately, one local restaurant does an incredible job at creating this feeling—from home!
A traditional Gyro should taste fresh and vibrant. The meat should be succulent while the tzatziki sauce and veggies give it a fresh, wholesome flavor. Now, where could the best gyro be? I did some digging and decided to research the most highly rated gyro restaurant and give it a review. After all, if a Greek-American can do anything, reviewing gyros should be at the top of the list.
Sketchy. That is the first word that came to mind when I entered Niko's Gyros parking lot. There was a big open sign, but the lobby looked empty.
Entering the restaurant I was warmly greeted by a smiling worker. I ordered three regular gyros (one for me and two for my parents) with three fries. The price came out to $26, so if on a budget I highly recommend this place!
While waiting I decided to take a seat and observe the environment around me. This is where I have to take away points. Chairs were laying around in random places, paintings were tilted, and it just did not feel welcoming. That being said the COVID-19 pandemic has impacted everyone, and nobody should be graded too harshly when there could be much bigger things happening behind the scenes.
After five minutes, it was done — speed kills and this worker cooked up my order incredibly quickly! Because of this, I decided to leave a $5 tip.
Taking my first bite, I went straight to the tzatziki sauce, and oh boy was this good! Flavors popped and melted in my mouth. With the crunch of the cucumber, the freshness of lemon, and the creaminess of the Greek yogurt, this is a phenomenal sauce!
Moving onto the pièce de résistance — gyro time!
My first bite was excellent. The meat was juicy and melted in my mouth, and the onions gave it a nice and fresh crunch. Unfortunately, the tomatoes were not good. I could tell that these tomatoes were refrigerated, which is a BIG no-no!
This was so minor though because of how good everything around it was. Delectable sauce and a delicious gyro, little tomatoes could not take away from how good of a product this small restaurant is putting out. I highly recommend this place to whoever wants to try something new while also supporting a local restaurant in the midst of this pandemic.
With a score of 8/10, Niko's does a great job of bringing a little bit of that Greek beauty to the brash Wisconsin life.