Review: Bands Keeping The Wisconsin Music Scene Alive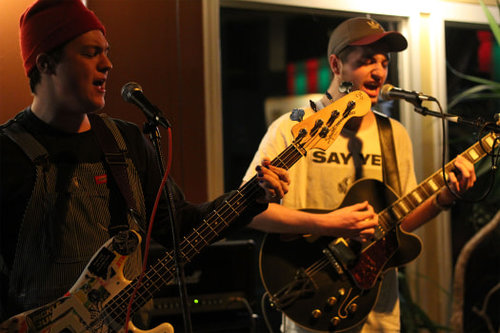 Wisconsin hosts its fair share of the midwest phenomenon of emo, alternative and pop rock music. The most well known being the folk-punk band from Milwaukee, Violent Femmes, who made it big with their self-titled album. They led the way for a new wave of music including bands like The Promise Ring, Vinyl Theater, and even Velvet Crush, whose guitar player is in the NHS alumni. Today, the Wisconsin alternative scene is not reaching the publicity levels it used to.
Regardless of the publicity levels, our local music scene is still alive, and these are the bands keeping it alive and sounding better than ever:
Sparkle-punk band from Madison, Kule, started releasing music in 2019. Since then they have evolved into a true powerhouse; they invoke energy and sounds from bands like Title Fight and Origami Angel. The vocals on their new LP Lost In Translations have true punk emotion to them and clean production,as well as lively instrumentation, makes this a super well-rounded project.
"Some of our inspirations are Tiny Voices, Spread Thin, Coasting and Reality Check! All of these bands are from Wisconsin and you should definitely check them out," frontman Andrew Pentecost said.
Many people think of local bands, especially punk ones, as too messy, or just not talented enough to hit the mainstream, but Kule really stomps that standard with a professional, but still genuine sound.
Nosebleeds formed in 2017 in the Fox Valley, and they embody genuine midwestern emo music down to the core. Their 2020 album Field Experience comes back with even more energy than their last, it is packed with math rock-esque guitar riffs, energetic vocals and punchy personality.
"We are a Midwest Emo/Sparkle Punk style band and we write songs ranging from personal grief and experiences, to some silly and fun stuff, like our favorite shows. We've been on a hiatus at the moment, just growing up, getting jobs and living life, but we are starting to write some new material!" guitar and bass player Jack Ratajczak said.
Nosebleeds is the perfect band for people who want something real and rough around the edges. Their energy is unmatched, and couples perfectly with their skill, talent and passion for what they do.
Shoobie is a local favorite in the relatively small Oshkosh scene. Their 2019 release A Strange Time to Be Alive is a lively surf rock record that leads into their newer releases, which have dived head first into a psychedelic rock sound, with the same energy and even more skill as their older music. In 2020 Shoobie released their first full length album, Gunk, and a new album is in the works to be released in early 2022.
"A local band that is one of my favorites is Lunar Moth. Really great sludgy riffs and super amazing people too. I'm also really inspired by jazz musicians like Miles Davis, and early goth bands like The Cure," guitar player Leah David said.
If looking to get into local music and do not know where to start, Shoobie is a new best friend. Their music has an enthralling energy, with classic rock influences that blend well with a newer alternative sound. 
Though underground, local music exists and can be just as ear-catching as what enthusiasts hear from the Billboard Top 100. Getting involved with the local music scene can help make a band's career take off. Every person in the crowd and follow on Spotify can make the difference between stardom, and never quite making it. According to UNCTAD, venues lost 72 percent of their revenue from the shutdown. It is finally time that those venues are opening back up, and now is the time to go support your favorite local Wisconsin bands and artists.