Get to Know: State Senate Candidate Rachael Cabral-Guevara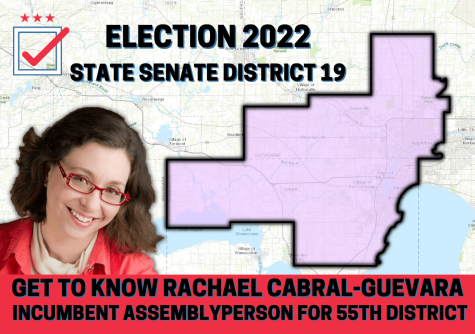 Satellite: What are your primary reasons for running this campaign?
Cabral-Guevara: My main objective is to ensure accessible, affordable healthcare for folks in the Fox Valley and around the state. I am also fighting to lower costs for Wisconsin families, to keep our communities safe, and make Wisconsin the place my kids want to live for years to come.
Satellite: What prior experience do you have that makes you a better candidate?
Cabral-Guevara: As a state representative, I'm experienced not only in getting things done, but in making our communities better places to live, work, and raise a family. Additionally, my experience as a mom, nurse, and business owner keeps my roots in this community, which would be an honor to continue serving.
Satellite: Which issue do you find the most crucial to the community, and how will you fight it if elected?
Cabral-Guevara:  The number one issue I hear as I speak with folks around the Fox Valley is inflation. The skyrocketing cost of food, gas, and rent is hurting everyone. To fix this issue, I plan on returning more tax dollars back to taxpayers in the form of tax cuts, reigning in wasteful government spending, and doing what we can in Wisconsin to resolve the supply chain issue, including encouraging more "Made in Wisconsin" products.  Most people know that our rising inflation comes from our federal government, but that doesn't mean state leaders can't take action to reduce rising costs. I fought for one of the largest tax cuts in state history this legislative session, which has helped soften the sting that inflation has put on Wisconsinites. Next session, I intend to continue cutting more wasteful spending and taxes, as we continue to suffer from this inflation.
Satellite: How do you stand on Wisconsin's 1849 abortion law, which largely bans the practice?
Cabral-Guevara: As a nurse and a mom, I support increasing education on how to prevent unwanted pregnancies in the first place. I do think the current abortion state law from 1849 needs to be updated, and needs to include exemptions for rape, incest, and life of the mother.
Satellite: What do you believe the state can do to improve its electoral process?
Cabral-Guevara: Legislatively, we can and should do a better job addressing some of the loopholes in our election law that have been exploited by some. I intend to fully support those reform measures next session in the state senate, and we can finally make them statute with a Republican governor in office. I would also like to continue pushing to keep private dollars out of the administration of our elections. Ultimately, my goal is to make it easy to vote, but hard to cheat.
Satellite: What can you say about your environmental record?
Cabral-Guevara: As the past and present owner of hybrids and EV's, I understand the need to reduce the impact of climate change here in the Fox Valley and throughout Wisconsin. In the state legislature, I helped introduce a bill that would create a community solar program for residents to help lower their energy bills. I also supported legislation that would protect clean water around the state. For my work, I was awarded Water Legislator of the Year by the Wisconsin Water Alliance.
Rachael Cabral-Guevara is a nurse practitioner and current incumbent Assembly member for Wisconsin's 55th district.  Following her victory in the Republican Primary with 63.6% of the vote on Aug. 9, she is set to face Appleton alderperson Kristin Alfheim for the title of State Senator from the 19th district on Nov. 8, 2022.