Staff Editorial in Support of Tradition: Helping Hands Art & Craft Fair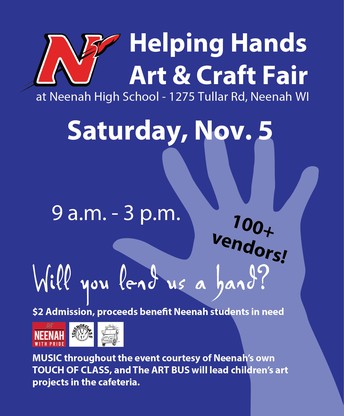 The community of Neenah values tradition.  The 12th annual Helping Hands Art & Craft Fair takes place in the Ron Einerson Fieldhouse on Nov. 5 beginning at 9 a.m. and ending at 3 p.m., with an entry fee of $2.
The Satellite staff urges you — a member of the student body to attend and volunteer for the NHS Helping Hands Arts & Crafts Fair, not only for yourself but others in your community.
The craft fair promotes small local businesses, all offering unique handmade items. From intricate woodcarvings, soaps so beautiful you could eat, to actual food you should eat. With wares from over 110 vendors, there is sure to be a treasure that appeals to you. Touch of Class will be playing live music during the fair, pleasing the ears. Along with being one of the earliest and largest in the area, the craft fair makes holiday shopping easy. 
A new addition to the fair this year is an arts and crafts kids table. The craft fair's longstanding traditions, the used book sale and basket raffle are continuing on and are expected to thrive. Raising $16,292.72 last year, the proceeds of the craft fair go directly to helping people in the community, offering holiday relief as well as a need-based scholarship for students. 
Not only should you attend, but volunteer as well. It is a large event, requiring many hands for set up and clean up. This offers yet another great opportunity for students who have volunteer hours as a requirement for a club or organization and a drive to help others. Volunteers are needed all over the fair, from day prior set up, to helping vendors move their wares, to dissembling it all at the end of the fair.
Volunteers are still needed, use this link to sign up if interested.
The Satellite staff celebrates the shoppers, volunteers, vendors and organizers of this community event!  Thank you for supporting this rich, community tradition.