Debate at State: Skyrocketing Success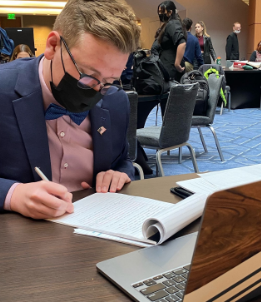 Neenah Debate members will be participating in the Wisconsin State Debate Tournament on Jan. 14 and 15 in West Bend.
The following students will be competing in Junior Varsity Lincoln Douglas debate format: freshman Caroline Hodges and Nina Bhattacharjee as well as sophomore Drew Benthein, Kale Hildebrandt and Aidan Lishner. Competing in the Varsity Lincoln Douglas format are junior Sarah Hoffman and senior Parker De Deker.
The state debate team has increased bringing six qualifying members last year, and seven this year. The total membership for the debate team itself has also skyrocketed from seven to 31 total members within a year.  In order to qualify for state an individual must have two winning records, called legs, at two in-state tournaments according to NHS Speech & Debate president Parker De Deker. "I am super proud of our team, they have accomplished a lot in this past year," De Deker said.
One of the team's new members Drew Benthein expresses a sense of personal growth and expectation for the upcoming competition: "I started the season in August with little debate knowledge and no experience. After hours of work and competitions, I have improved a lot and I look forward to making myself and the team proud."
Updates to come following January 15.