Girls' Basketball Roars Past Panthers, Advances to Sectionals
This past Saturday night saw another impressive win for the Rockets, as they outraced the Stevens Point Panthers 65-44.  The result is the team being crowned the 2023 Regional Champions and earning a commemorative plaque.  Last year's team, the #4 seed, also accomplished this, according to archived WIAA brackets – but subsequently lost in the 2nd round of sectionals to Appleton East.  This year's team, however, enjoys holding the #1 seed in the bracket on top of a near-perfect record, buoying them at the top of the state rankings.
Ava Kok and Autumn Schabo, two seniors on the team, agreed to talk about the night's game and what they look forward to.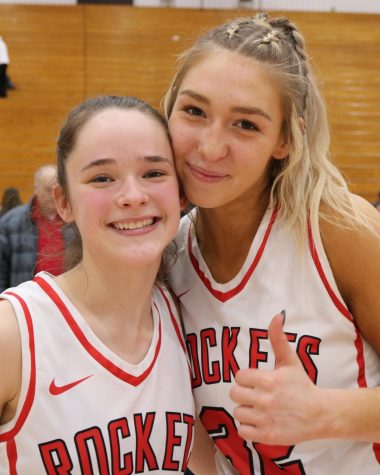 Q: What did the other team do well?
Kok: They have good intensity and good defense.
Schabo:  So, the other team was very energized right away, and they knew what they were coming in for, especially the seed difference between us.  They expected that coming into our gym. They had to work hard, and I think they did that really well. We worked together as one, and we overcame that.
Q: What did the other team have to work on?
Kok:  It's not necessarily anything that they can do better. It's just we have a pretty good defense and kind of a hard offense to stop.
Schabo: They did have a lot more size on us (in the nicest way possible), but they did win their conference.  They're a very good team.  It was just coming into our gym, and our conferences were so different that I think we were just the next level up.  I don't think they could pass that.
Q: What was the biggest challenge in today's game?
Kok: They came out quickly.  We had to dig in in the first couple of minutes, but we did a good job of that.
Schabo: That was their 3rd game this week, but coming off of a really slow game yesterday for us.  It was just a big thing for us to come out strong right away.
Q: What does the team need to fix before the next game?
Schabo: Looking into the other team and seeing their strengths, what we need to do to get on that, and know what we need to be ready for.  We haven't seen [the next opponent] play, so we don't know what those are yet.
Kok: Sometimes, we have some lulls, lapses in energy, and so we just need to play 100 percent the entire game.
Q: How will the future play out for the team?
Schabo: It's really one game at a time, and I think that if we keep our mentality going and stay focused.  We'll do as well as we can.
The team possesses nearly unstoppable momentum with a 15-game winning streak as they head into Sectionals.  Their first opponents are Eau Claire Memorial's Old Abes, the #5 seed in the bracket.  The game will occur Thursday, March 2, in the Eau Claire Memorial High School building.  The winner of that game advances to Sectional Finals to be held at Appleton East High School on Saturday, March 4; possible opponents include Hortonville (#3 seed) and Wausau West (#7 seed).
A continuously-updating bracket for all Basketball divisions can be found on the WIAA website.