Boys' Basketball Closes Out Ron Einerson Fieldhouse with Regional Championship
After serving as the main home venue for Neenah's High School Varsity basketball games for some 50 years, the Ron Einerson Fieldhouse hosted its two last dances this past weekend, serving as the venue for the #6 seed Rockets' Boys Basketball team's regional championships.  And in two audience-attracting matchups, the Rockets prevailed, beating Stevens Point, 60-45 on Friday and Appleton West, 81-71, on Saturday.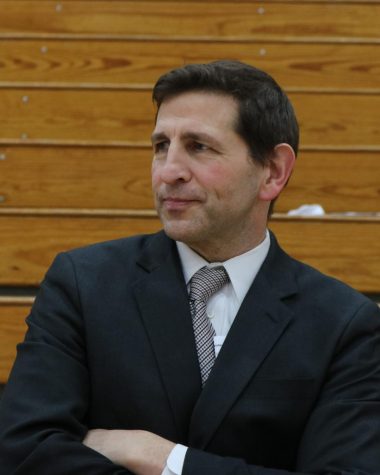 Lee Rabas, Head Coach for the boys' team, reflected on Friday's game as follows:
Rabas: We played a great match, much better in the second half than the first half, and we're just very fortunate to get out of tonight with the win.  It's another real blessing that we get to play at home tomorrow night.
Q: What in that second half was better than the first?
Rabas: You know, we just played harder defensively and with more poise on offense.
Q: What must the team work on for tomorrow's game against Appleton West?
Rabas: They will be coming in here with a ton of confidence.  That was a big win for them tonight to beat the higher seed on their home court.  So they will be wired in there; they're an athletic team.  They're very well-coached, so we'll have our work cut out for us tomorrow.  We have got to be really good on defense, make it tough for people to score, and we have got to take care of the ball on offense and get good shots and make them.
Q: How do you evaluate the team's performance as a whole this year?
Rabas: We're coming from a state championship, so those are big shoes to fill.  And you know, I think they've done a great job.  They come in every day, work hard, and hopefully, we can keep stringing together some wins here in March.
Elliott Swanson, player #24 (senior) also commented about the game.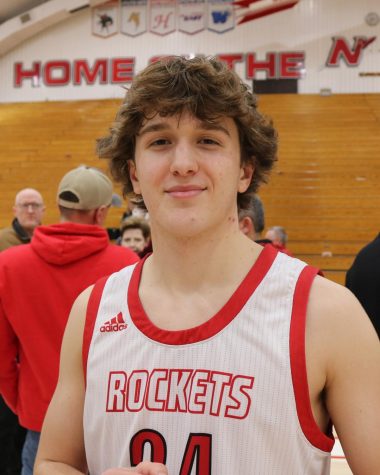 Swanson: The game was pretty good.  We started off pretty slow in the first half, and they had a couple of guys making many shots.  It was just a low-scoring game.  But in the second half, we really picked it up. And we started playing better defense and moving the ball a lot more, and it worked out really well.  Cal [Klesmit] really got us going with a couple of 3-pointers and started facilitating, which is what we need him to do.  And he did a really good job of that, and then Brady [Corso] also got it going.  Jackson [Schlomann] also had many good finishes toward the end.  The opponent's best player, number 10, was really good.  He made a lot of tough shots, and they played really good defense.  But we just outscored him and locked in on the defensive end.
Q: So you'll face Appleton West tomorrow; what can you note about them?
Swanson: We beat them twice, but both games were good, and they just had a big win.  So they'll be ready to go, but we'll also be ready.
Q: What do you have to do to prepare for that?
Swanson: I just got to get some rest, hydrate, sleep, and be ready for tomorrow.  They're similar to this team, but they're pretty athletic, so we just have to play a lot of defense, and I think we'll be good.
Saturday's game was not quite smooth sailing.  #14 seed, the Appleton West Terrors, kept the score neck-and-neck.  At various points in the game, they even appeared poised to overtake the Rockets; however, Neenah consistently bounced back and cemented their victory with a couple of free throws; various fouls marked the last minutes of the game.  Following this, the team was crowned this year's regional champion.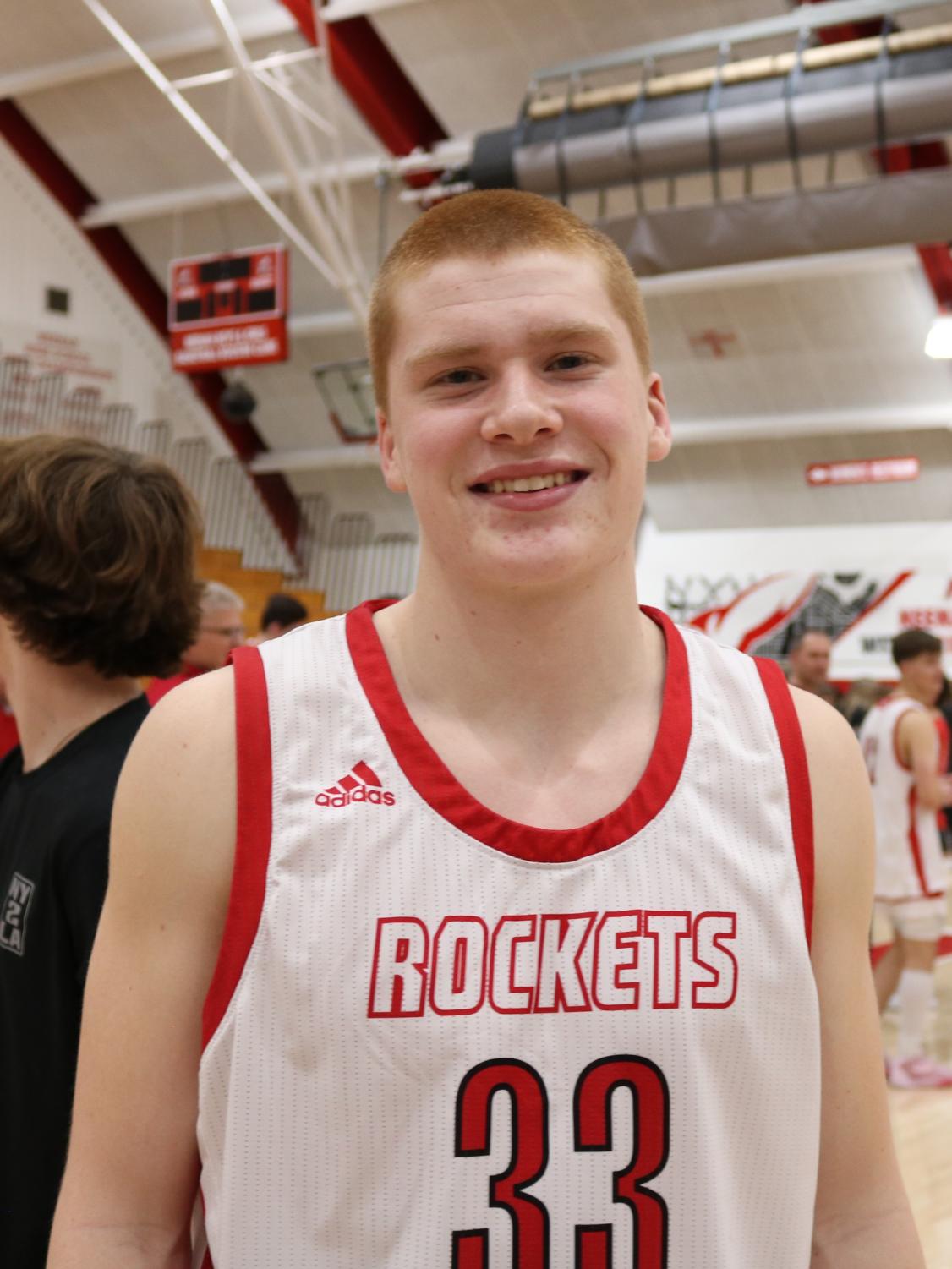 Luke Jung, player #33 (sophomore), said the following about Saturday's game:
Jung: The game went well; we all fought hard and fought to the end. Started a bit rough on defense, but we figured it out toward the end of the game.
Q: What did you have to change in the second half?
Jung: We hustled back on defense and just played with a better mindset.
Q: What about the other team?
Jung: They got to the hoop really well. The offense rebounded pretty well, and they hung with us well.
Q: Were the referees kind to the team today?
Jung: The refs were good.  They were good with the other team and us.  I don't think there was too much bias.
Q: What does this mean to you?
Jung: It's pretty cool that we get to be Regional Championships with the last game in the REF.  It's cool just to end it here.
Q: What are you looking forward to for next week?
Jung: So next week we play Hudson.  We're just going to watch some films of them and figure it out and get to work.  We haven't played them before recently.  We just have to work on defense and just getting better overall.  Keep our guy in front of us, play hard, and just have fun.
Statistically speaking, that may present a challenge. Hudson takes the #2 seed in the WIAA bracket, whereas the Rockets hold #6.  The Hudson Raiders, a team located in a city directly overlooking Minneapolis, currently stand at a 21-6 cumulative record, according to MaxPreps.  They hold the #1 spot in the Big Rivers Conference and come from two encouraging wins, 58-39 against Wausau West and 64-44 against D.C. Everest.
The game will occur this Thursday at 7 p.m. at Stevens Point.  A continuously-updating bracket with all tournament scores can be found on the WIAA website.