Both Track Teams Place 2nd at Annual Home Invite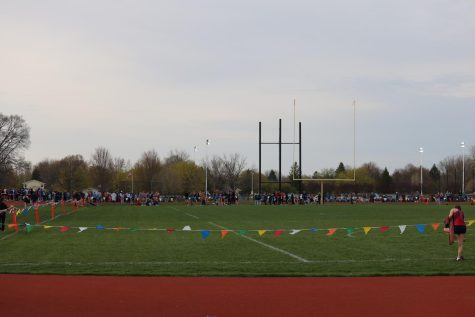 The NHS track teams held their annual home meet on Friday, April 28, inviting schools from across the state.  Eleven teams from across the state partook in 40 distinct events ranging from distance running to disc throwing; the meet itself took roughly four hours to complete.
Neenah Varsity Girls placed 2nd with 118 points, and Neenah Varsity Boys also placed 2nd with 110 points.  Many spectators filled the stands, presenting a new challenge for N.J.S.D. staff manning the concession stands: at least one was required to cook food as they taught in their classroom throughout the day in order to adequately fill the afternoon's near-continuous lines demanding hamburgers, hot dogs and sweets.
Members of the junior varsity teams stood guard around the field and assisted in setting up items needed for events, such as hurdles.  Also, coaching staff signaled via flag the readiness of athletes during the events.  Scores and event lineups were announced via loudspeaker in the absence of Rocket Stadium's former jumbo-tron, which has reportedly already been transported to the site of the new stadium at 500 Rocket Way.
Senior Ian Cowell, a captain on the Neenah boys' team, assesses that the meet itself went really well for the Rockets.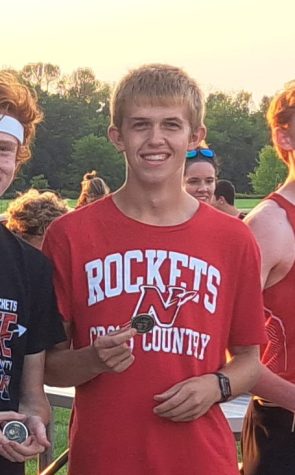 "There was some good competition at the meet and everyone did a great job riding to the challenge and performing well.  We had a lot of great performances all around," Cowell said.
He noted that his male colleagues' first place in the 4×200, 4×400 and 4×800 relays, along with several other performances in distance events boosted the team's score.  Namely, he highlighted Charles Fredrickson (junior), who placed second in the 400- meter dash, Grant Dean (senior), who placed third in the 200-meter dash, Alex Thayer (junior), who placed second in the 800-meter dash, and fellow captain Jack Dorner (senior), for his 5th and 7th place finish in the 1600 meter/1 mile and 3200 meter/2 mile events, respectively.
"For me, personally it was a big meet.  It's my first meet outdoors as I'm coming off a knee injury, but it felt good. Now I've just got to get back into training.  I'll get where I want to be by the end of the season," Cowell added.
Full results for this meet are available at Milesplit.
This coming Tuesday, both the boys' and girls' track teams will face the first of their Conference Relay Meets in Kaukauna.