The annual Club Fair will be hosted by the National Honor Society  in the atrium on Friday, Sept. 15, according to student organizers Claire Nichols and Hayley Clark.
Seniors, Nichols and Clark, communicated with club advisers prior to the event.  They communicated that with a new school comes new regulations regarding the fair. First, no candy or food may be given out at tables. Second, only table decorations are allowed. Music is at an acceptable level is allowed.
The goal of the Club Fair is to encourage club participation. Students will view the array of clubs featured at the high school and explore interest within the diverse offerings.
With in the new high school, the fair will be held in and near the atrium. Unlike prior years held in the fieldhouse where students wondered, this year a map serves as a guide to encourage general flow of traffic in the new space.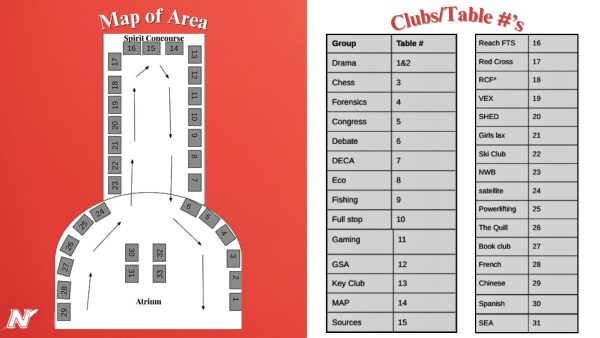 As far as student release to the fair, announcements will guide the process.  Anticipate students to be released by grades to regulate the amount of people at the fair during specific times. The Club Fair is during Champion time (Day 1- Period 1).
Students will attend with their class and adviser, according the co-National Honor Society adviser Kaitie Bergmann.
Each booth features least one student running it (preferably two) and the student(s) will be there the whole time to explain the clubs and answer questions. This means no student can run more than one booth.
Clark shared that her role in this seemingly simple fair was more challenging than most would think. She and Nichols cross-checked different information forms for details others might have missed, such as clubs not running anymore or new club advisers. Also, they responded to staff questions about the fair. Both will be visible at the fair on Friday to promote the success of the event along with the NHS advisers, teachers and administrative team.
"I am most excited for is seeing what clubs the freshmen and other new students join! As a LAUNCH leader, I'm thrilled to see how my group of freshmen immerse themselves in Neenah High School culture, Clark said.
Clark, Writers Club president,  reflected that last year's booth was a major success last year. "We had over fifty people sign up for Writers Club on one day, which was extra exciting!"
Here is the schedule for the fair.
Friday, Sept. 15 Period 1:
Sophomores: 8-8:20 a.m.
Juniors: 8:15-8:35 a.m.
Seniors: 8:25-8:45 a.m.
Break for STAR passing time
Freshmen: 9-9:35 a.m.